Hoarfrost at Granite Peak
Rib Mountain, Wausau, Wisconsin, USA, Earth
January 2001
Click on any thumbnail below to view a fullsize jpeg image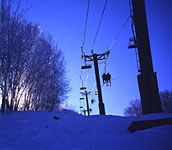 Riding up Chair One on a crisp, cold, sparkling morning in January.
The trees are laced with hoarfrost again, and today I brought my camera !


---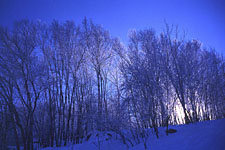 Gazing thru the trees at the "rising" sun.
In January this is about as high as it gets.

---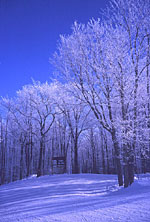 A fork in the road at the top of Chair One ...
Which way to go ? Down Slalom, Elk Run, or Sundance ?
Ahhh... who cares ? Just look at those trees !

---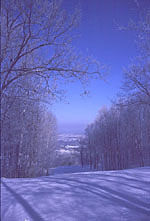 A lone rider leads the way. Elk-a-hol it is !

---


A wintery view of Wausau and the Wisconsin River from Elk Run.

---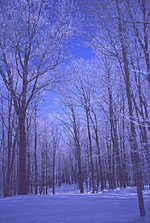 On the tree-covered trail to the Eastern Slopes - Sundance and Slalom (aka "Salmon Run").

---


Or, if you are feeling especially adventurous, onward to "Carmie's Coulour"...

---


which lies just past this rustic Ski Patrol shack...
NOT !

---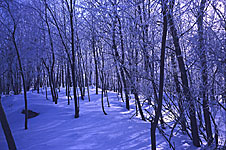 Or you could venture out-of-area to the as-yet-undiscovered Far Eastern Chutes...
But you didn't hear about it from me !

---


A mysterious pillar of light appears over Rib Mountain every Tuesday evening at about this time.
Nobody seems to know why... and even JD isn't talking !

---
back to the Decksters