1972-1975
The First Ever Inverted Aerial Jumps at Rib Mountain !!!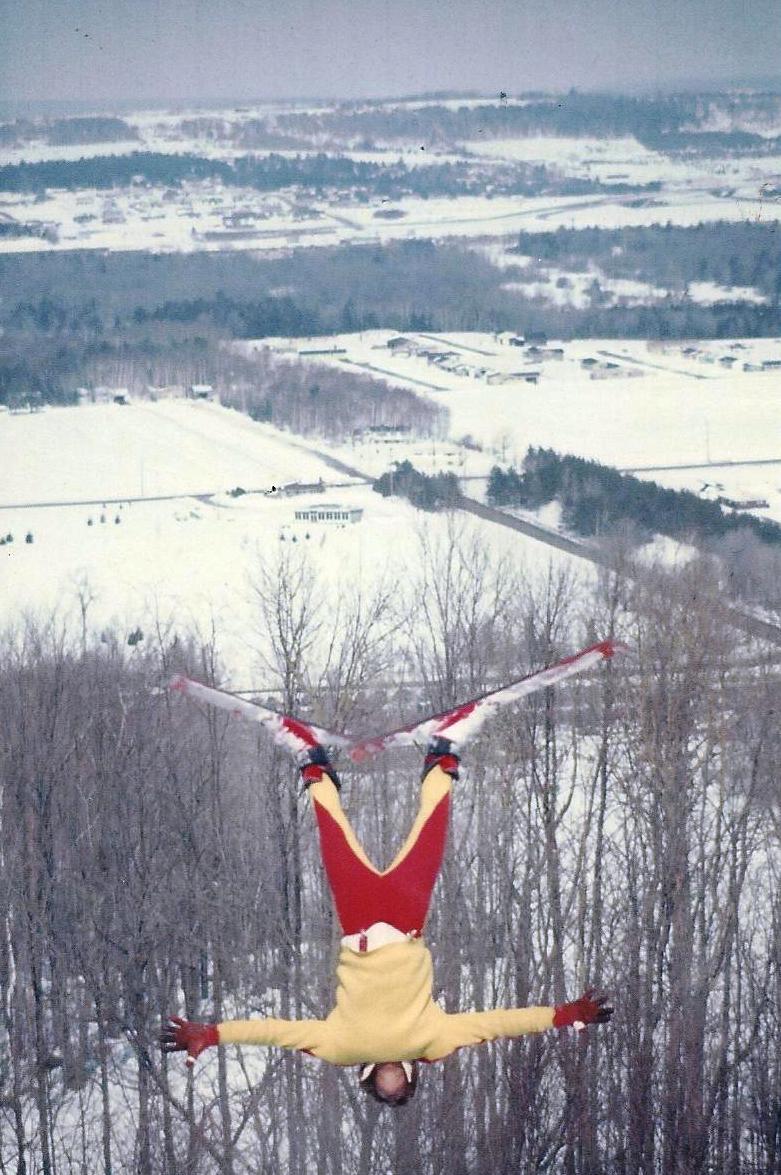 Pictures and commentary courtesy of Jeff Brandt...
Here is the story line: In the ski season of 72/73 Carmie, as you know, would not allow us to jump and multiple warnings for flying the Sr. headwall failed to stop us. So when the hill closed that year we drove to the top walked down and built the first back and front flip jump made on Rib Mt. The people in building phase with shovels are myself, Rick Elliott, and a few people we can't identify anymore other than the one with the engineer hat on, that sw Was Terry Davis. He grew up next door to me on Pintail Lane just down from the Ostranders and we were best friends from 11 through High school. The reason I mention this is because he went on to serve in Viet Nam, came back to work at Cray industries the computer giant, then opened the first Rocky Rococo's in Stevens Point then Wausau. In February last year (2014) he went out to shovel his roof and never came in, he died of a massive heart attack at 61.
These shots are the first ever back and front flips done on Rib and of course we walked back up as the hill was closed. The tandem jumps are Rick and myself doing the first back and front combo. The Following season 74/75 Carmie... recognizing the growing Freestyle movement (then it was still called Hot Dogging) gave us Slalom Run as a dedicated run for a jump. That is the infamous Hay Bail jump. It consisted of 16 Hay bails, Rick remembers we paid .35 cents each from a farm on Hwy N, I don't remember how we got them half way down Slalom. It was over 6 feet high on the downhill side, air time was about 15-20 feet. Steve Sirianni and I actually did a front back holding hands, well a strap, holding on to it the entire time and landing it. Footage made the show Wisconsin Outdoor Sportsman with Host Joe Schillinger. I wish I could find footage, but they told me it didn't survive the 70's. I'm in the Blue and yellow, Rick is in the Orange and yellow.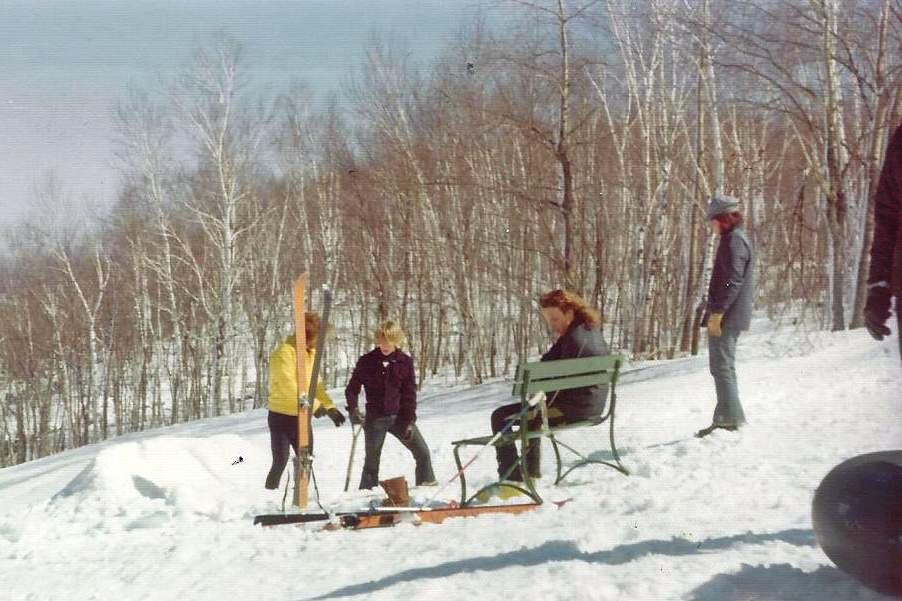 Construction






The first ever back flip on Rib Mtn






Getting the feel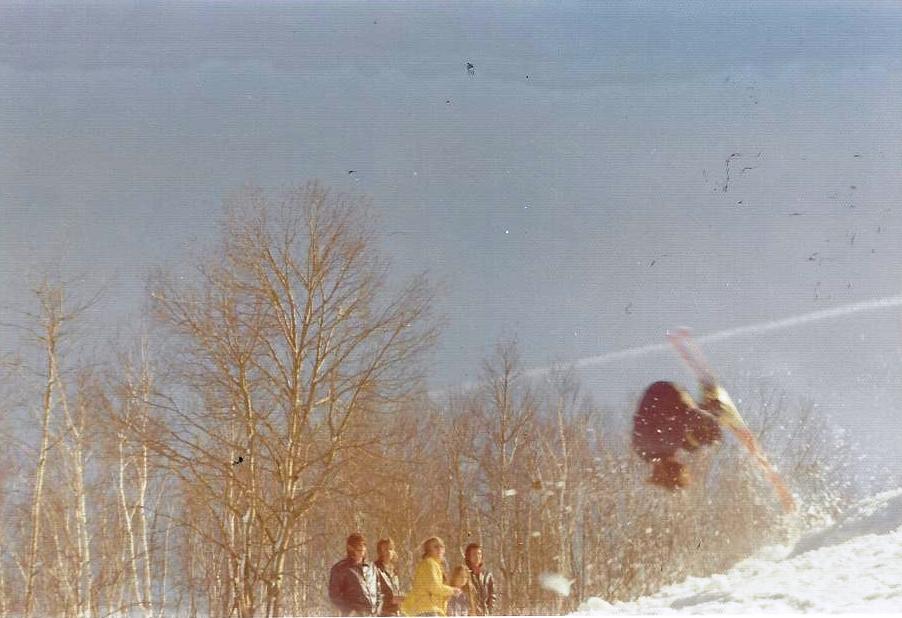 The first ever front flip on Rib Mtn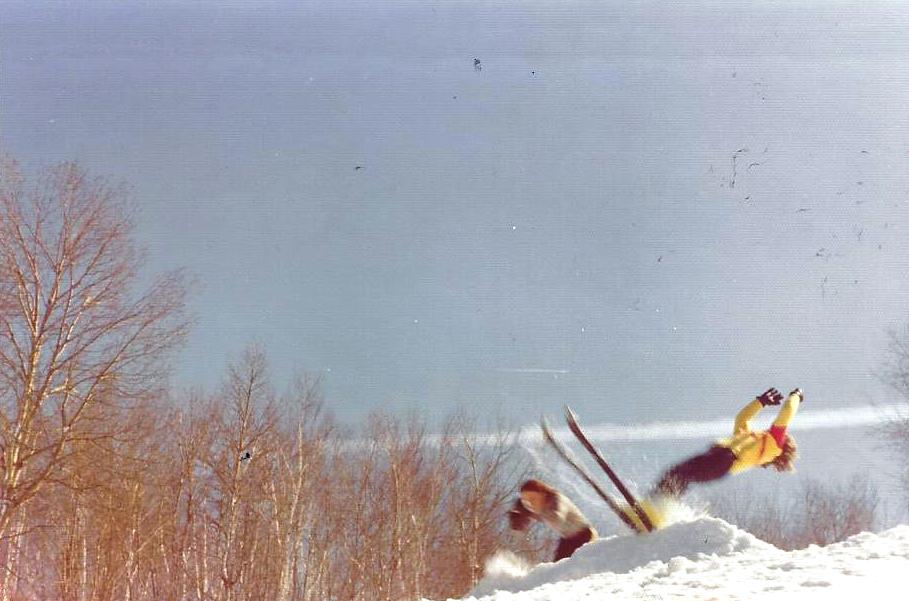 First Front Back Tandum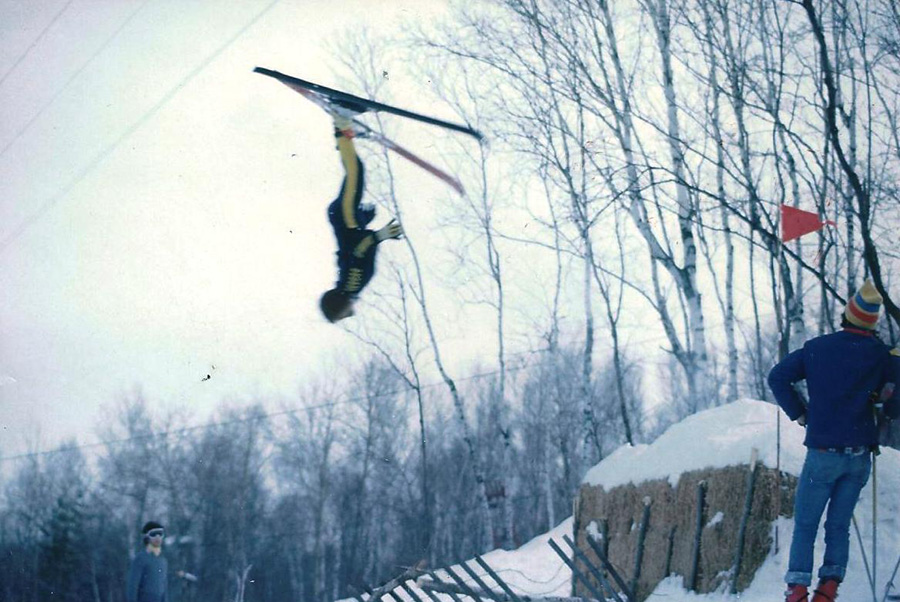 Jeff Brandt 1975 Hay Bail jump on Slalom Run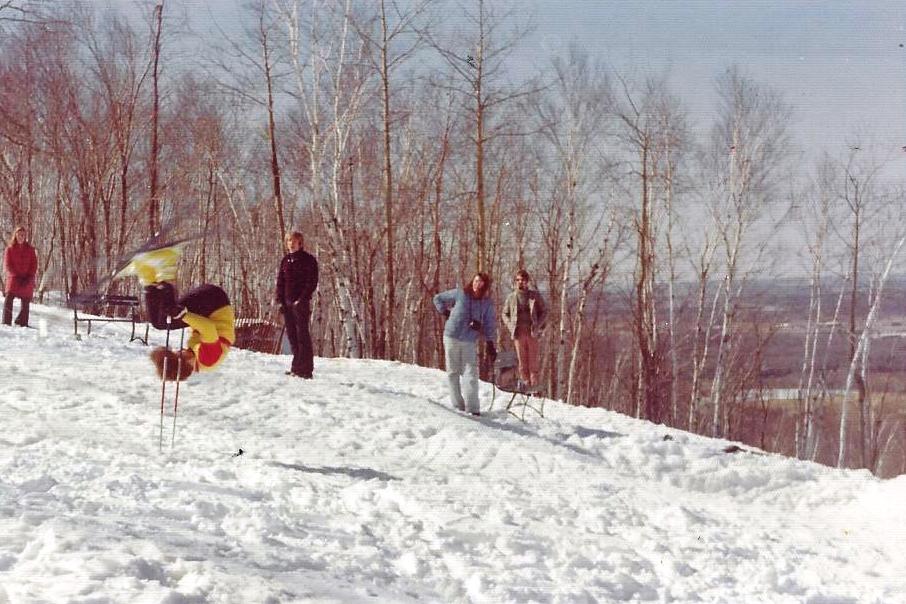 Rick Elliott Pole Flip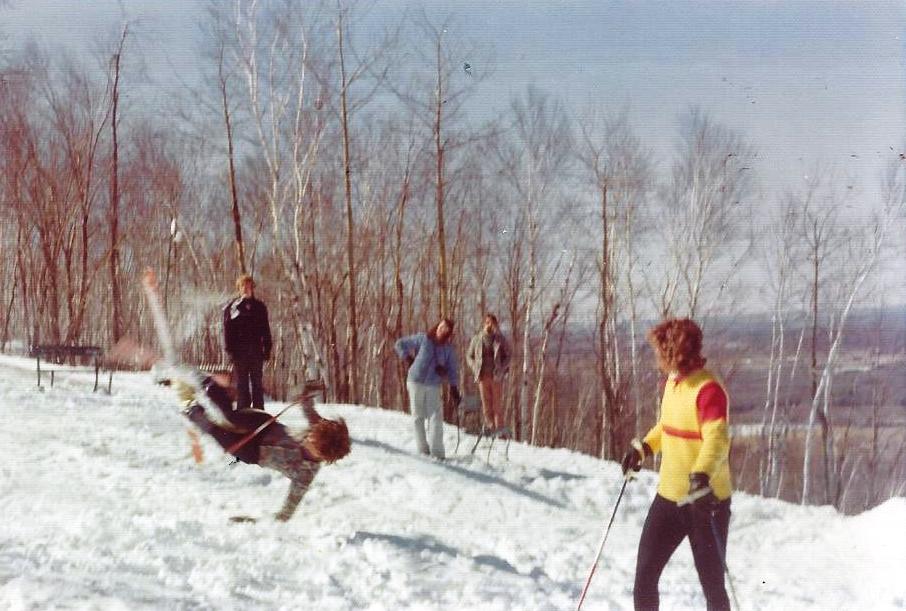 Jeff Brandt Epic Shoulder Roll






Rick Elliott goes upside down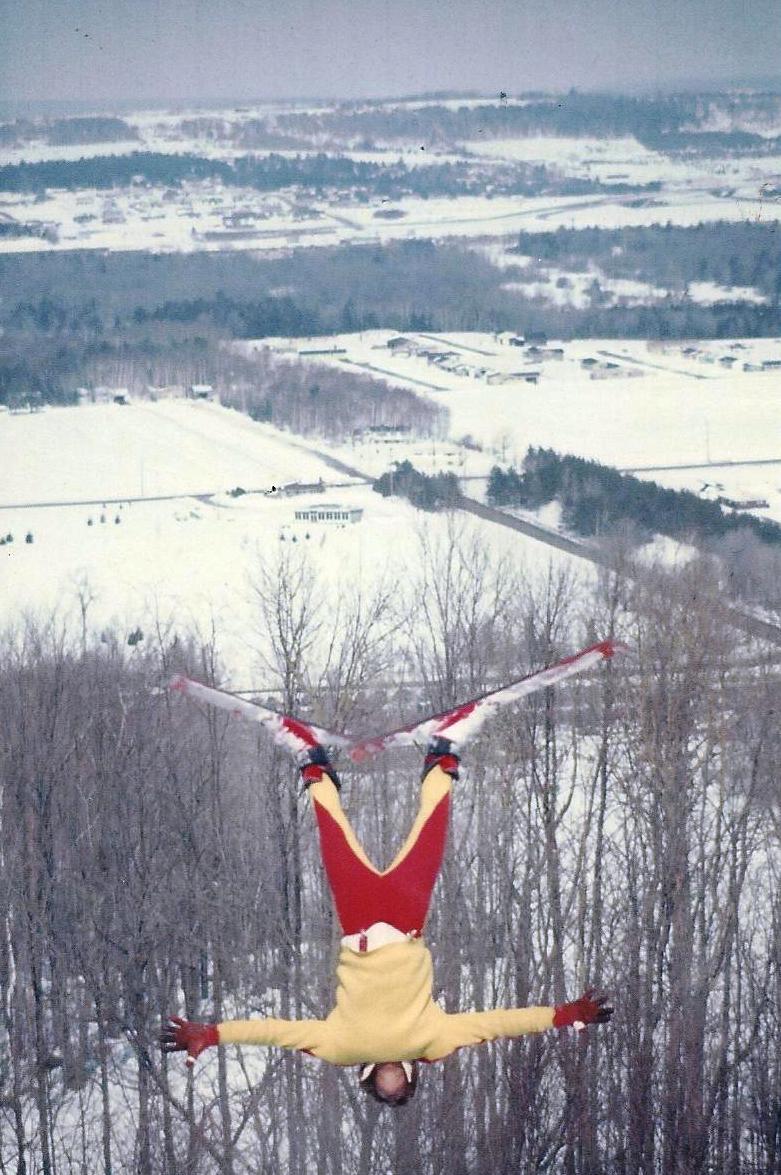 Lovin' it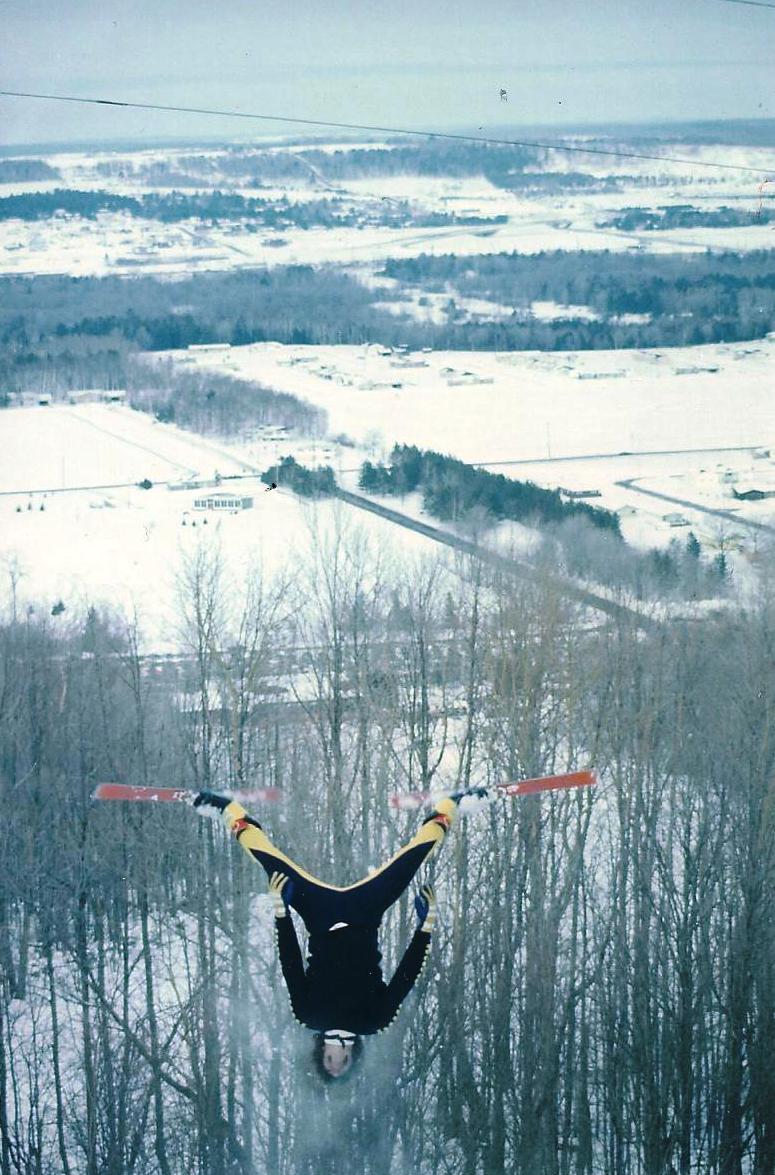 Jeff Brandt in his element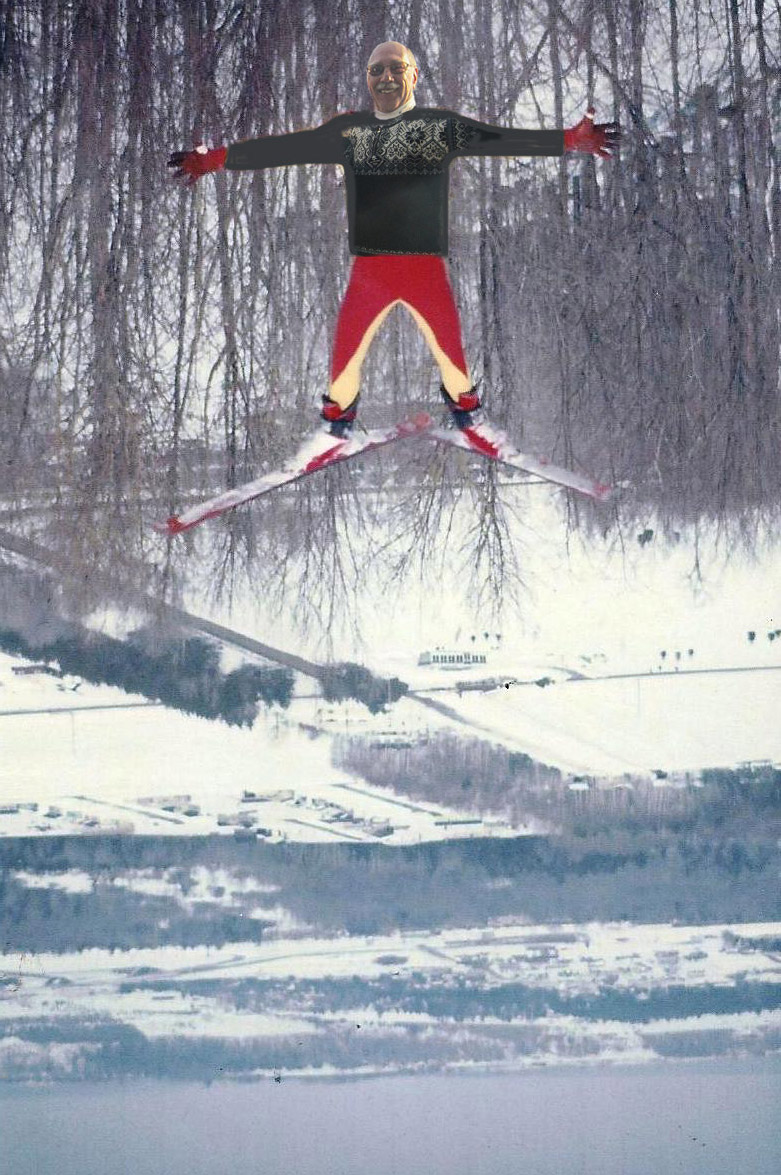 Eck was there that day, too!
Is this how it feels to be upside down?
( or is it the world that's topsy turvy? )