Skier Types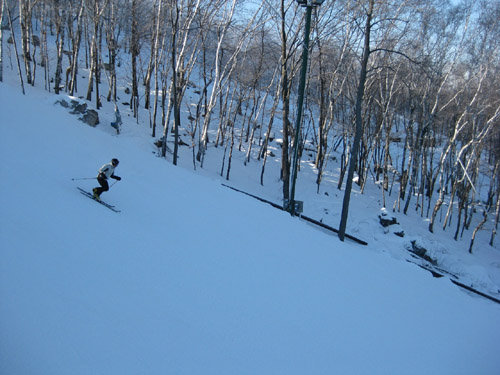 Can you spot what skier type this is ?


---
What type of skier are you ?
Forget about Advanced, Intermediate, or Beginner.
According to professional skiologists, there are 8 basic types of skier:
Racers
Racers want to go straight down the mountain as fast as humanly possible
They show up for race leagues, Badger State Games, and award ceremonies
They wear helmets, Spyder gear, and medals if they got em
They always wax their skis and sharpen their edges
Bumpers
Bumpers like to make lots of quick turns
They prefer moguls, trees, powder and crud to groomed runs
They work harder at checking their speed (whoa !) than on going faster
They often wear funny and/or stupid hats
Groomers
Groomers like to follow in the groomer's tracks
They wear ski sweaters and fashionable shades, but rarely a hat (maybe a headband)
They don't really care if it snows or not, as long as the sun is out
You'll never spot one wearing a helmet, unless its got an awesome sound system !
Tricksters
Tricksters head straight for the terrain park on their totally rad gangsta twin-tips
They like to wear baggy pants, gaudy jackets, and hoodies
They spend more time in the air than on the snow
Sure, they're stupid, but hey, you were young once too !
Patrollers
Patrollers always ski in tight formation
They like to practice slow, complicated manueovers, over and over again
They wear identical outfits
If you get hurt they will come for you, so for godsake, be careful !
Free-heelers
Free-heelers use special "telly" gear that you can't buy around here
They ski funny, and usually act funny, too
They like to carve up groomers, slice through deep pow, or whatever, dude
Sure, they're gay, but they can kick your sissy-ass butt !
Rental-mentals
Rental-mentals show up at 8am and stand in line for an hour waiting to buy a lift ticket
Then they wait in line for another hour waiting to rent equipment
Then they spend an hour or two in the chalet getting dressed and making phone calls
Then they stand around in the lift line waiting for their friend who got lost
Then they take a run or two and start packing up so they can leave early and go home
Handwarmers
Handwarmers are friendly and gregarious and introduce themselves to strangers
They like any kind of ski terrain, but prefer hard, flat surfaces made of oak, marble or brass
They are always full of friendly advice
If you buy a "handwarmer" for a Handwarmer, they may introduce you to the Decksters !
---
Back to Decksters