Diving in Grand Cayman
December 2-9, 2010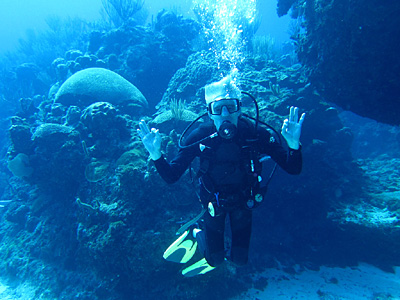 ---
For our annual trip to Grand Cayman this year we had a pretty big group. Pete and Jill, Chris and Trish, Woody, Lisa, Fran, Rachel, Marty and Kay, and a special guest... Microsoft billionaire Paul Allen ! His yacht was moored just offshore from our condo. Although we didn't actually see him, we're sure he really wanted to join us, but didn't want to crash our party uninvited. He's pretty shy, you know. But next time, Paul, you're welcome to drop in (by boat or helicopter) and sing harmony with Woody and Trish on "Purple Haze" (unplugged) !

My first day was spent on the beach. Seven Mile Beach is justly famous for... you know, sand and stuff. And having just flown down from Wisconsin in early December, that suits me fine. Not that I object to the snow at home. I'm just not quite ready for it yet. At least, not until I make that long distance call tomorrow to da UP, eh to order my $99 on-sale-for-one-day-only Bohemia ski season pass. Then I'll be almost ready.
But the next day is my first dive day, starting with a warm-up dive off the West End, where we are already conveniently situated. The famous Cayman Wall surrounds the whole island and plunges down about 5,000 feet before hitting bottom. You can't see bottom from 100' down, but you can somehow feel it.
Plenty of tropical fish and other sea creatures call this place home. Like this sea turtle cruising along the top of the Wall after having risen from the depths.
After a morning spent mostly underwater, it's always nice to return to the beach and, perhaps, stroll down to a beach bar like Calico Jack's.
But come tomorrow morning, once more, the Wall beckons...
Besides the dramatic dropoff, there is other inviting topography. Many tunnels, coral canyons, and assorted swim-throughs are found throughout the reef.
You never know what you might run into. Here is a pair of porcupine fish, a certain type of pufferfish.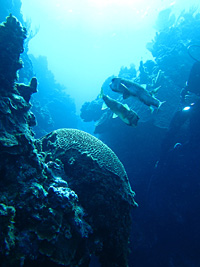 And a beautiful angelfish...


You are also likely to meet interesting people. Especially if you didn't already bring your own dive buddy along. This is Nagi from India. He's been diving all around the world, including the Indian Ocean and the Red Sea.

"OK, Nagi, take my camera... now hurry up and shoot ! I can't hold my breath much longer..."

Of course, every diving trip to Grand Cayman must end at Stingray City...

Arguably, the world's best 10' dive site.

"You can't beat fun."
- Silas "Chum" Spengler




There are two ways to view the slides:

Select a Thumbnail

Automatic Slideshow


(with 10 second delay)




---