Grand Cayman Diving
November 29-December 6, 2012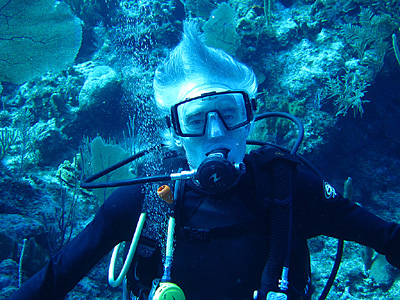 Video dive clips
---
Once again, it's time for our annual trip to Grand Cayman. It's still too early to ski in Wisconsin, but cold enough to appreciate some 80 degree weather.
I spent my first day acclimating at the beach, hanging out with the usual suspects from Madison: Pete, Jill, Fran, Rachel, Marty and Kay. This year, Chris and Trish were back, too, so I had somebody to help me experiment with some new and mysterious liquid concoctions at the Sunset Grill.
What was that elixir called, again ? Dark and Stormy ? Drunk and Stormy ? Something like that.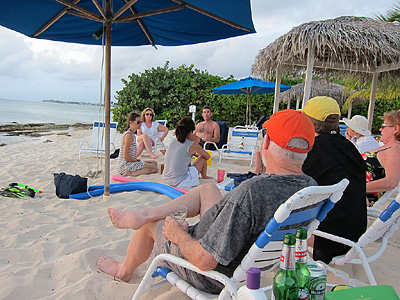 Newcomers Katherine, Chris, Joanna, Ellen and Eric rounded things out, helping us to totally dominate the scene on this little stretch of Seven Mile Beach. As usual, there was plenty of lively discussion and debate about Madison restaurants and the Opera. I'm slightly out of my depth when it comes to Don Giovanni vs The Magic Flute, but that's OK...
If the conversation gets too deep, my Suunto dive watch will start to beep. It tells me I've been down too long and need to resurface for a hamburger at the Lone Star Bar & Grill, and maybe listen to some Marshall Tucker on the jukebox. I hope Mozart will forgive me.
Speaking of hamburgers, I don't remember if they serve those at Calico Jacks (below). But they certainly do have fine margaritas !
What was that elixir called again ? Never mind.
Besides 7 Mile Beach, Sting Ray City, Full Moon Parties, and money laundering, the Caymans are a world renowned diving destination.
The Cayman Wall is aptly named. It's a giant wall of coral-encrusted rock that starts near the ocean surface and drops down to... far too deep to worry about. We human divers only submerge to 100 feet or so. Leave whatever is down there alone.
Please !
Besides deep sea monsters...


... another fish that is not welcome here is the invasive lionfish. It is permissible to spear these, and they are trying to develop a market for them as a fish for human consumption. If they catch on, they should soon become extinct. I hope somebody opens a Lionfish restaurant on Willy Street soon. I can't wait to hear all about it !

There is a highly rated dive operation called Ocean Frontiers on the East End of the island...

The water was a bit rough that day. Not unusual for December, when the trade winds blow.

But things were perfectly calm underneath the waves.

The usual routine for a two-tank boat dive is for the first to be a deep Wall dive (~100 feet max) and the second one shallow (~60 feet max). The shallow dives are best for viewing colorful reef fish, like this school of blue chromis...

...and for exploring coral swim-throughs...

On the North side of the island, just inside the barrier reef, is a shallow region on the sandy bottom called Stingray City and another called Sandbar, where stingrays congregate to be hand-fed squid and play with snorklers and divers. It's a memorable experience, but I didn't feel the need to do it again this year. Instead, I was excited to be able to dive the North Wall again, outside the barrier reef. It was a bit windy and rough out there, but not bad enough to call off the dive. And that's just how I like it. As Chicago Tommy would say, "steep and deep, bro' !"

"You can't beat fun."
- Silas "Chum" Spengler




Here are my first experiments with underwater video:



There are two ways to view the slides:

Select a Thumbnail

Automatic Slideshow


(with 10 second delay)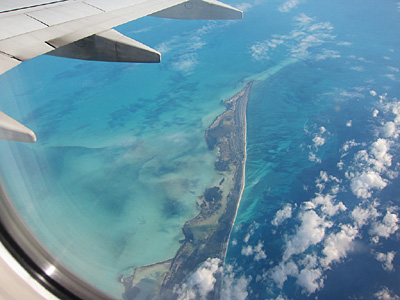 Cuba


---