Diving Grand Cayman
December 5-12, 2013

Video dive clips
---
December is here again. Xmas is approaching and the holiday shopping season is in full swing. Oh, the horror... the horror !
Time to escape to a Caribbean island.
Yes, the beach looks about the same as last year. Thank god ! All seven beautiful miles of it. Only one cruise ship visible in Georgetown harbor.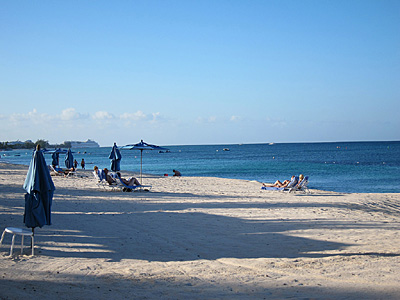 I spend most of Friday undergoing serious R&R on our little piece of 7 Mile Beach. Pete, Jill, Fran, Rachel, and (newbie) sister Kelly are already there. So is Patti. Marty and Kay will arrive later. Inevitably, Marty will point to where the infamous green flash will magically appear at sunset, if only our luck holds. (Not)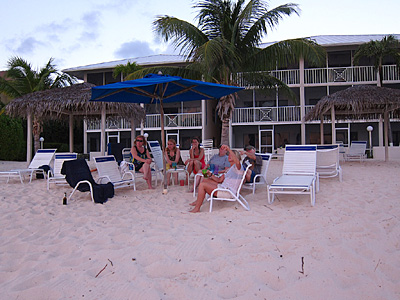 We have the 3rd floor condo on the corner this time. Very nice.
Later in the afternoon, we drive down the left side of the road to the Weston Hotel, where I sign up for a dive trip with Red Sail Sports. I'd like to dive the North Wall tomorrow, if the winds allow it. We shall see...
North Wall trip cancelled. Lot's of wind and the water's too choppy. So we dive the West Wall instead, on the leeward side of the island and right off 7 Mile Beach.
That's fine with me because the visibility is great and the diving here is spectacular.
The scenery is also inspiring...
That's Kana, a divemaster from Japan. She's been diving all over the world. She paid me a nice compliment on the boat by asking me if I was a "professional diver".
This was after we got back from a dive! Thanks, Kana. Maybe someday...
Back on the surface, a brief downpour is followed by a spectacular rainbow. Kana and friend take advantage of the photo op. And so do I!
The pot of gold appears to be located right under our recently vacated dive site. Damn! We just missed helping ourselves!
On the east side of Grand Cayman, about an hour's drive from 7 Mile Beach, I jumped on a diveboat operated by Ocean Frontiers.
The ocean was pretty choppy outside of the barrier reef. If you are susceptible to seasickness, beware!
But our dive was joined by a pair of curious Caribbean reef sharks...
Of all the occasions I've been diving here, this was the first time I've gotten to "swim with the sharks". You're very lucky to catch a glimpse of a hammerhead lurking in the depths along the Wall. Once I got close enough to a nurse shark sleeping under a coral ledge to touch it's tail. But that was after a girl did it first!
Sharks are exciting to see up close. But smaller fish (and reptiles) are certainly less intimidating.
Above, a porcupine fish, a kind of inflatible pufferfish with extendible spines. Below, a hawksbill seaturtle.
2013 was the "Year of the Selfie". Here are two personal contributions.


The infamous Porno Bed of Grand Cayman is lurking in the background.




My first underwater selfie! "Blubber blub blub blub..."


No visit to 7 Mile Beach would be complete without a stroll down to Calico Jack's beachside bar.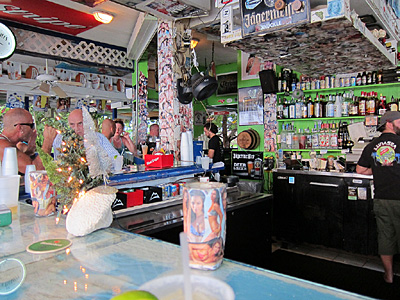 The prices are unreasonable and the clientele questionable. A typical pirate hangout.


A damn good place to watch the sun set while sipping a margarita. Or two... or three...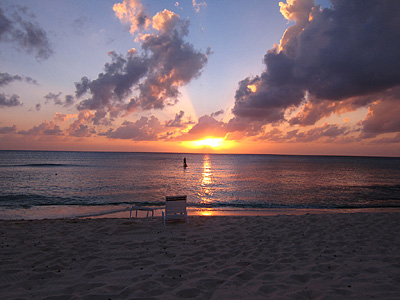 But the highlight of this trip had to be the finale. It was my last day of diving before flying back home. The boat left Ocean Frontiers and headed north inside the barrier reef to keep seasickness to a minimum. Once outside the coral wall, we made our way along the north side of the island until we came to a group of four relatively remote divesites that are highly sought after but restricted. Today was not our turn to tie up to the buoy marking the most famous divesite in Grand Cayman. So we tied up to a neighboring buoy. Then we dropped down to 100 feet and kicked our way along the Wall to the site next door...

Welcome to Babylon !

A sheer wall, plunging down into azure depths over a mile deep. Then a giant pinnacle festooned with delicate gorgonia, black corals, and tube sponges. You spiral around it, starting at 100 feet and slowly work your way up to finally emerge over the top of the Wall at around 60 feet. And with only 4 divers + guide, I was well positioned to savor the moment and take plenty of pictures, too!
Ahhhh....

One last thing. Matt, the captain of our O.F. boat, has a killer trick he can do underwater.
He blows what look like giant smoke rings... only they're bubbles.

I can hardly wait to return to Grand Cayman and figure out how he does that!




"You can't beat fun."
- Silas "Chum" Spengler




Here are a few underwater videos:



There are two ways to view the slides:

Select a Thumbnail

Automatic Slideshow


(with 10 second delay)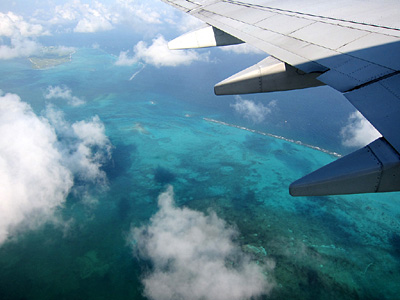 Leaving Grand Cayman. North Sound and Stingray City.


---