Irene's Garden
"Hippie Disco"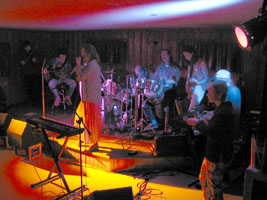 ---
Irene's Garden (formerly The Stellectrics) were a tribe of musicians based in Steven's Point, Wisconsin.
They play highly original, richly textured, weirdly beautiful, trance&dance music.
They certainly don't sound like anybody else.

But since all things must pass, I'm afraid the Garden has gone the way of The Stellectrics, WitzEnd, and the hula-hoop.
Fond, hazy memories remain. So long... farewell... adieu...
However, nothing on the Web is really a thing, so is not subject to the All Things Must Pass rule !
Prepare to enter a timewarp and take that Trip d'Venus...
This is music for listening,
music for dancing,
music to lose your Self in...

Put on your dancing shoes and leave your body behind...
(or the other way around ?)

Pics from the 1st and (unfortunately) Last Annual WitzEnd Paul&Betty Anniversity Celebration...
Irene's Garden with the Screaming Gypsies Belly Dancers
( just relax and let the show unfold like a lotus )

Listen to Irene's Garden live at WitzEnd, Summer Solstice, June 2001
( an ultra-low-fi "bootleg" recording by yours truly )

Don't Look Out
Mirror Writing
Image
Oasis
Ain't Gonna Work
Books
Bad Side of Town


---