Climbing Mt Baker
Mt Baker, Washington, June 1998

Click on any thumbnail below to view a fullsize jpeg image


---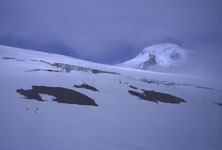 Mt Baker finally emerges from the clouds as we reach the Hogsback.
Some other climbers practice their self-arrest technique on the glacier.
---



Above the clouds... a good place to set up camp.
---


Mt Baker at sunset. Tomorrow we head for the summit !
---


High camp on a ridge near the base of the Black Buttes.
This is probably as close to heaven as you can get... without dying.
---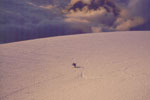 A tele-skier descends from our camp at sunset.
Stop back anytime, dude... oh, and thanks for the hit !

---


It's a long way up for one run down ... Do you think he's sorry ?
Hey Cuz, can I 'ave a lil' nip o' whi'key ? Jus' one lil' nip ?
---

Sunset on the ridge ... looking toward British Columbia.
---


Sun's up already. Time to get a move on !
---


My cousin and climbing partner, John.
Hey Cuz, looks like there's a big slot up ahead !
---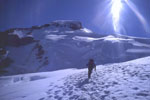 No problem. We'll just go around it.
---


The Roman Wall beckons.
How long to the summit ? 30 minutes, you think ?
( It was more like 2 hours )
---


The Deming Glacier seen from halfway up the Roman Wall. That's Glacier Peak in the distance.
Oops, I better watch what I'm doing... I don't want to blow a foot !
---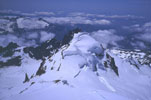 Looking down on some other climbers below. We're almost there !
---

On the summit at last... Hey, what are YOU guys doing here ?
You mean we're not the FIRST ?
---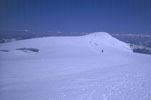 Atop Mt Baker's broad summit plateau...
Another party of climbers starting back down from the "true summit".
Some of them look pretty worn out.
---


I would never have survived without my trusty Wapiti Woolies® hat !

---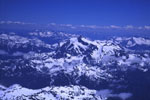 Mt Shuksan. It sure looks different from way up here !

---

It's a long way down... I wish we could stay a while longer.
Maybe take a little nap ( an' maybe jus' a lil' nip ? )
But John reminds me of the Mountaineers' Slogan: "OK. We made it. Now let's get the hell out of here !"