Climbing Mt Baker, Again
Mt Baker, Washington, September 2000

Click on any thumbnail below to view a fullsize jpeg image


---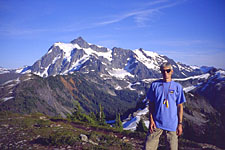 Actually, this isn't Mt Baker. This is Mt Shuksan. But when Scott took this picture on top of Table Mtn
I was looking at the summit of Mt Baker and thinking about being there. No wonder I'm smiling.

---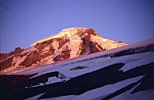 This is Mt Baker... in alpenglow. A view from our camp on "the Hogsback" at the edge of the Coleman glacier.
---



Scott is in the "kitchen". A circle of stones helps to block the early evening wind.
In a few hours we (Me, Scott, and Matt) will start for the summit.
---



Starting out after a hearty breakfast of oatmeal and...
more oatmeal.

---


Approaching the summit of Mt Baker: the Roman Nose, Roman Mustache, and Pumice Ridge.
Also, some rather impressive crevasses.
---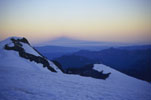 Looking out over Puget Sound at sunrise. Mt Baker casts a long shadow.

---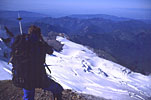 On the Pumice Ridge, Scott looks back down over our route.
And the spectacular Coleman glacier.
---


On the Roman Wall, looking out over the Deming Glacier and a really big crevasse.
That wisp of steam above is from the crater of Mt Baker.

---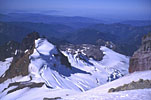 The crux of the climb is making it to the top of the Roman Wall...
We're not there yet !
---
---

We're on the summit plateau, at last ! But the "true summit" is still over there.
---
---


Why, pose for a summit photo, of course !
That's Mt Shuksan below. Remember Mt Shuksan ?
---
---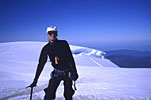 Just another day in Paradise !
---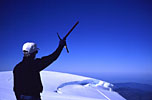 A farewell salute to Adam Kolff... a young friend who died in a tragic plane crash
on Denali earlier this summer. A Seattle native, his free spirit can also be felt here, on Mt Baker.
---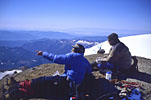 Matt points out the surrounding mountains...
between naps.
---


Looking down into the crater and a very weird looking volcanic vent.
Hey, remember that X-Files episode where agent Scully...
---


Day 3. Back down from the summit, our primary mission is accomplished.
What to do next ?
Looking up at the impressive icefall on the Coleman glacier...
Hey, let's go ice climbing !
---


Scott and Matt French their way across the Coleman.
---


I think I'll just hang here for a while.
Catch up with you guys later !
---
more Cascades adventures !