Mt Rainier, Mt Baker and Ptarmigan Ridge
In the Cascades range, September 2008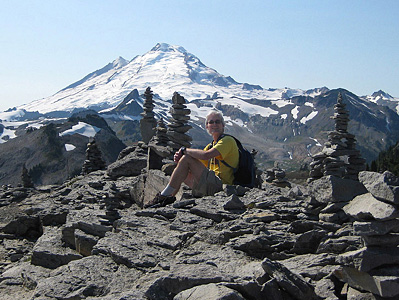 ---
September rolls around again in northern Wisconsin. The morning air gets a little crisper. The sky turns a deeper shade of blue.
It's time to get back to the mountains !
I book a flight into SEA-TAC and two nights in downtown Seattle. Yes, I know, I've done this before. Same old, same old. And why not ? Maybe this time I'll get lucky with the weather ! And there is always something new to do. I'm planning to rendezvous with Daniel, a local mountaineer with a Dutch accent I met last year who lives in Port Townsend. We intend to do some hiking around Mt Rainier. I hadn't been back to Rainier in many years, and the historic lodge in Paradise was finally open again after being closed for several seasons.
Well, you know what they say about best laid plans... the weather was splendid, but my cellphone showed no bars after entering the Mt Rainier park boundaries and discovering that our agreed meeting place was closed. After driving back and forth on the road into Paradise, stopping at various places to look for Daniel, I eventually called it quits at noon. It was time to get out on the trail ! When I was later able to retrieve my phone messages, I found that Daniel had done basically the same thing. He had looked and left some messages, then gave up around noon. But after his hike, he later stopped at the Paradise Inn to ask if I was staying there. Which, of course, I was (I was lucky to get a room !), only they refused to ring me up since the register read "James" instead of "Tony" because I had signed in with my legal name as it appears on my credit card, and so on and so forth...
Isn't civilization wonderful ?


But it was great to be back on the trail to Camp Muir. Camp Muir is the base camp for most summit attempts. I wasn't heading for the summit this time, but I should have arranged to meet Daniel at Camp Muir as a Plan B. That way park rangers and hotel staffers and cell phone companies couldn't screw things up. Nothing but snow-covered crevasses, sudden violent storms, and the occasional avalanche could get in the way, and we can deal with those. Ah, well...
But the rest of the day was sweet. I hiked most of the way up the snow field to Camp Muir before turning back. I've been to Camp Muir, and believe me, the accommodations at the Paradise Inn are better. Although the company may not be as good.
I spent one night at the Paradise Inn, which had been closed for several years while the foundations were carefully rebuilt without disrupting the old timber structure. The central hall is full of oversized log-hewn furniture that Paul Bunyan might have found cozy. But the place could definitely use a bar !
The next morning, on the way back down, I visited some photogenic waterfalls along the way. Then, after a mandatory pit stop at REI in Seattle to pick up provisions and ogle high-tech outdoor gear and eat lunch in the rooftop restaurant, I headed north up the I-5 to the city of Bellingham, close to the Canadian border. The weather forecast for the next few days was good, but there was no time to waste. There is always another front "converging" on this area from the Pacific. That's why it rains so much, and why Mt Baker holds the world's record for snowfall.
Of course, once getting to the parking lot at the end of the Mt Baker highway, I had to make the short, steep climb to the top of Table Mountain to take in the spectacular views of Mt Shuksan to the east and Mt Baker to the west. A couple of older gentlemen from Vancouver with Czechoslovakian accents accompanied me, and we swapped picture taking duties among the cairns (top photo). Finally, back at the car I finished packing up, hoisted the monster unto my back ( RJ: Next time maybe I'll go ultralite ! ) and started the trek along Ptarmigan Ridge in the direction of Mt Baker. I had a vague plan to camp near a glacial lake I spotted last year at the end of a spur trail (in the distance below). This is the spot where I had met Daniel the previous season.
But I opted for this modest little campsite instead...
The special advantages of this site were a ready source of water in the form of a brook of meltwater from a nearby snow patch, a cluster of trees to provide a wind break if needed (usually the case on a mountain ridge !), and the opportunity to wander around on the wide, pebble-strewn ridge and have unobtructed views of two spectacular glaciated mountains, not to mention the lake and other mountains in the distance. There were also a number of mountain goats scampering about to keep me company. The only other people around were a party of three that passed through at sunset and ended up camping near the lake, about a mile away. I could see an occasional light from their camp that night, and they could probably see mine, a simple REI candle lantern (you'd be amazed how bright a candle looks from a distance when its the only source of "unnatural" light around).
It was a beautiful night, warm, with a full moon. So was the following night. And most unusual of all, it was dead calm.
When you can light a match in the mountains at night without cupping it in your hands, you know you have lucked out (and there's going to be hell to pay later).



The next day began with this beautiful sunrise over Mt Shuksan. The clouds that morning looked really weird, like jellyfish, with long tendrils trailing down from dome-shaped tops.



After breakfast, I set off on a long day hike to Camp Kiser at the end of the Ptarmigan Ridge trail. This so-called "camp" is really just a jumble of volcanic rocks on the edge of a glacier. It's a typical climbers camp along one route (not a very popular one because of the long approach) to the summit of Mt Baker. There are some cool looking rock cairns to mark the trail near "The Portals", which is a gap between rock outcroppings that looks like a gate and invites you to climb onward and upward (see above). But here is where you should strap on your crampons and rope up with a buddy who knows how to do a crevass rescue ! I wasn't going that far today. I was just out for a picnic.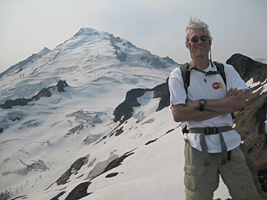 Speaking of picnics, at the top of one of those aforementioned outcroppings I caught up with a couple of day hikers who had passed me on the trail earlier while I was searching for my misplaced camera. I had absent-mindedly left it behind on a boulder, well off the beaten path, where I had stopped to rest and take some photos. When I discovered it was missing and started to look for it, I found to my chagrin that every boulder in this weird lunar landscape looks alike, especially when you are looking from the wrong angle. "This must be the place. No wait, over here ! No... it must be that flat rock over there..."
Fortunately, my fellow hikers spotted a blue dot on a rock (you had to be in just the right place to see it) and gave me a shout. I recovered it and swore I would never set it down next to me until I was back in the car. It's hard enough for me to find my car keys at home, but a wilderness has so many more places to hide things !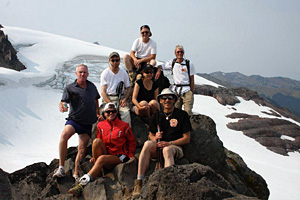 The two hikers were the trail blazers for a bigger group. When the rest caught up, I joined them for lunch. We took advantage of the usual photo-ops and swapped stories and emails (thanks for the pic!). They were members of the Boomers Hiking Club from Bellingham, out for their weekly excursion to some wonderful mountain playground. I envy them ! Not that there is anything wrong with my neck of the woods (we do have real woods, after all). But there is something magical about these particular mountains that keeps me coming back for more.

Sometimes people ask me why I keep returning to the Cascades of Washington instead of exploring some new and totally unfamiliar range of mountains.
Maybe I'm just lazy. Or maybe I'm a lost Boomer still looking for my missing camera.


---
Epilog
On the flight home I had a few hours to kill in the Minneapolis airport. Someone suggested taking the train to Mall of America.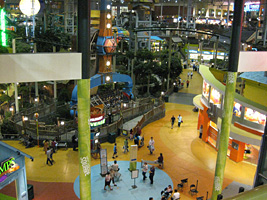 I had never been to Mall of America and I had always wondered what the fuss was all about.
I'm still wondering. But I did come back with a souvenir...
---
There are two ways to view the full set of slides:

Select a Thumbnail

Automatic Slideshow


(with 10 second delay)
---