The Pacific Northwest, September 2011





---
Another year has gone by, and I need another mountain fix. But where to go this time ? I would have liked to return to Ptarmigan Ridge on Mt Baker, but once again, there was still so much snow left over from last season that I had to rule that possibility out. In fact, there was so much snow that they never even plowed the last 2 miles of the Mt Baker Highway (542). In a "normal" year, this series of switchbacks would take tourists up to a parking lot at Heather Meadows where they could get out of their car or bus and admire the mountains, framed in beautiful fall colors, from Artist's Point. However, this year the heather hadn't even started to turn yet, and the usual reds and golds were missing. Everything was still summer green.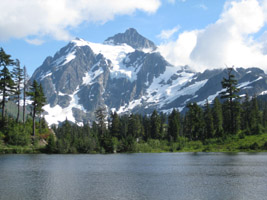 The road was closed, but you could park at the Mt Baker Ski Area and hike up to the parking lot, which is what I did. Here is what I found there...
Not many cars or buses ! But I was OK with that. I found the switchback trail that climbs to the top of Table Mountain and discovered plenty of snow up there, too (top picture - self portrait). Just then, the dramatic clouds were breaking up and the summits of both Baker and Shuksan were coming into view. That snow-covered ridge leading toward Mt Baker below is Ptarmigan Ridge, where I had hoped to camp, up near the glacier.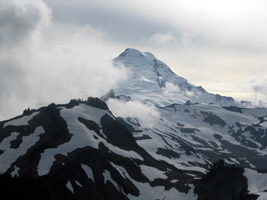 Driving back down the road, almost as an afterthought, I turned off on the one-way loop that goes around Picture Lake, where the above photo of Mt Shuksan had been taken hours before. The sun had set some time ago, but the sky had that luminous appearance that made me think there might be another photo op waiting. I was in luck. The alpenglow is when a mountain starts to radiate with its own inner light, long after the sun has gone down. At least it certainly seems that way. A scientist would call it "atmospheric refraction".
I call it a miracle.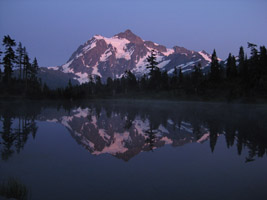 Having talked to the rangers at the station in Glacier, I already knew what Plan B was. I had never hiked up to Skyline Divide, another long ridge that extends out from Mt Baker. According to the guidebooks, it's a popular trail during the high season. But I was there a few weeks after Labor Day, as usual, and the crowds were long gone. The rangers had said it would be mostly snow free. Hard to believe, considering that only one other ridge separates it from Ptarmigan. Mountain weather. They were right, of course. And as soon as I found this campsite perched on top of a knoll just off the main trail, I dropped my pack and said, "this is far enough !" Why go any further once you've already reached paradise ?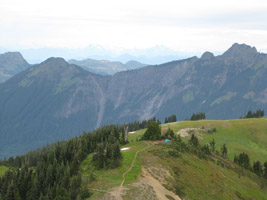 I woke up early the next morning and peeked out of the tent, wondering if any black bears had visited and tried to get into the cannister containing my food that the rangers had lent me...
"Oh my god !" (or words to that effect)
The sun was rising somewhere to the east, behind Mt Shuksan. Actually, I never saw it rise. These clouds were in the way by then.
But right now I would hardly say they were "in the way".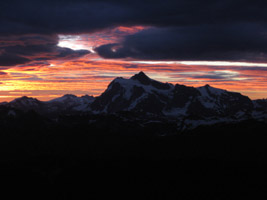 After a hearty breakfast of coffee and Quaker instant oatmeal, I had all day to wander the ridge and get lost and found again.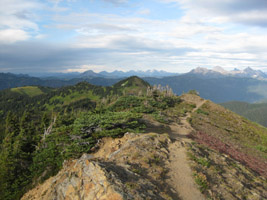 My first destination was Chowder Basin, a place I might have camped if I hadn't spotted my little perch. Besides checking the place out, I had another good reason to visit there. Water. There was no water up on the ridge where I was camped, even though there were plenty of snow patches around. I had had to make do with the two liter bottles I had carried up. Chowder Basin had a number of charming mountain brooks fed by snow above, so I got to refill both bottles. I was good for another 24 hours !
I then proceeded back up to the ridgetop and followed it toward Mt Baker. As I got closer I could see the Coleman glacier and the Black Buttes were I had once camped with cousin John before ascending to the summit.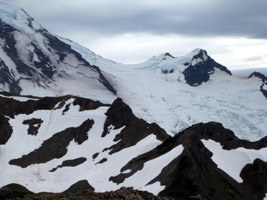 On the way back to my camp, the wind really picked up. I even stayed off the ridgetop trail for a while, not wanting to risk being suddenly picked up by the wind and dropped over the edge. It can happen !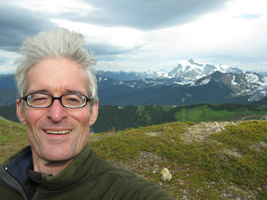 Once back to civilization, which for me was Bellingham, I took a nice, long, hot shower after several days without easy access to any water at all.
Then it was time to eat and drink! And what better place to enjoy some Pacific NW oysters and a couple o' pints of local craftbrew than La Chat Noir, overlooking Bellingham Bay. Especially when the sun sets over the Sound and lights up the whole back bar and bounces off the copper tabletops.
Civilization is OK... as long as you're not too civilized !
Fully recharged (camera, phone, and body) I explored the coast for a day. After all my years of visiting here, this is something I had never done around Bellingham. I am such a mountain junkie ! But this seemed like a good opportunity. The weather was nice, and I had just had my mountain fix and was good for another year, more or less. So I explored Chuckanut Drive and stopped at a state park along the way...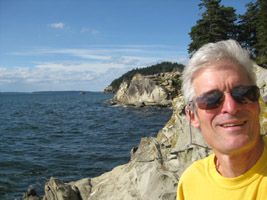 A kayaker and his dog, both wearing life preservers, cruised past my research station on the rocks. The San Juan Islands and Lummi Island are both in the background, somewhere.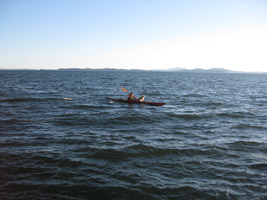 Bellingham is a good way to ease back into Civilization. Although the traffic there is as nuts as anywhere else on the Left Coast. But Seattle is where I started this trip and where I would finish it. I hadn't visited Pike Place Market in a couple of years, and I had some time to use/kill before checking into a hotel near Seatac Airport to catch an early morning flight back to Wisconsin.
The Market is still amazing. Fresh fish. Psychedelic flowers. Tacky T-shirts. Crazy performance artists. Lots of Asians.
And the Athenian has great food and drink.
"90% of life is just showing up."
Woody Allen



---
There are two ways to view the full set of slides:

Select a Thumbnail

Automatic Slideshow


(with 10 second delay)
---