The Pacific Northwest, September 2012





---
2012 has been a strange year. Global weirding is affecting everywhere. Wisconsin suffers from a drought, along with most of the nation. But Seattle, rain capital of the USA ? I hardly saw a cloud the week I was out there. And this was a repeat of the week before. Like I said, very strange...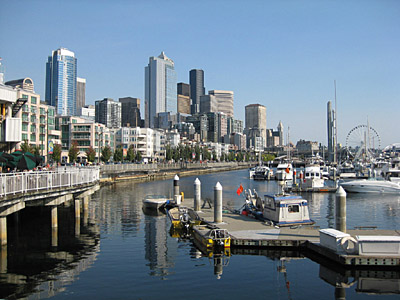 But there was still plenty of snow left around Mt Baker from the preceding season. Not so much that the switchback road leading up to the Heather Meadows parking lot was closed, as happened last year. Just enough to make things interesting along the trail that follows Ptarmigan Ridge toward Mt Baker. So I knew where I was headed this year.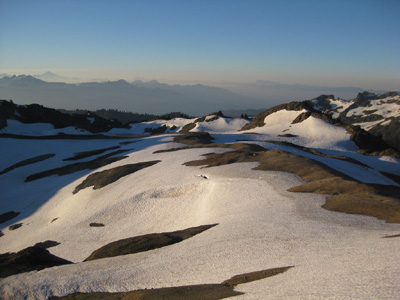 The day before loading up the backpack, I spent an afternoon wandering about on Table mountain, taking in the mountain scenery and building a rock cairn (because). While eating lunch and training my binoculars on Mt Shuksan, I suddenly noticed something I had always hoped to see, but until now, never had. A party of four roped up mountain climbers were crossing one of the hanging glaciers, about to wind their way around a large crevasse (can you spot them ?).
I watched them descend the Upper Curtis Glacier and then disappear behind a rocky ridge. They were following the Fischer Chimney route. That's something I'd still like to do. I've climbed to the summit of Mt Shuksan once via the Sulfide Glacier (up on top, not too visible from this vantage point).
***
The next day, I hiked along Ptarmigan Ridge to a wonderful camping spot beneath the Coleman Pinnacle, where a wide spur branches off and descends to a beautiful snowmelt lake. I pitched my tent on a knoll overlooking a deep valley, with splendid views of Mt Baker, Mt Shuksan, and the Cascade range to the south. That green thing in the foreground is my new tent. My old blue one finally expired (RIP).
I'm glad I got here in time to wash the salt off using the little snowmelt brook nearby. It was still warm in the late sun. I watched it set behind Mt Baker and illuminate Mt Shuksan to the east.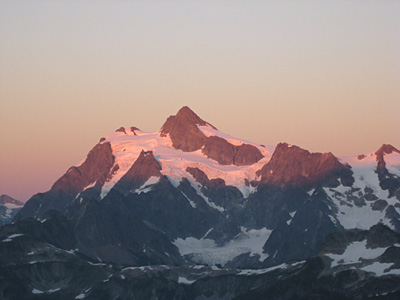 As a pair of mountain goats grazed nearby...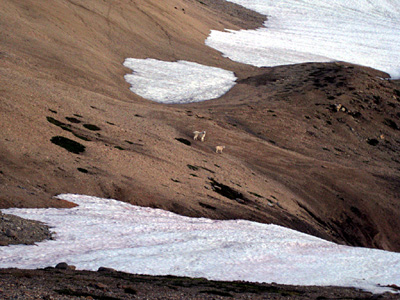 And finally, the crescent moon slowly disappeared behind Mt Baker to the west.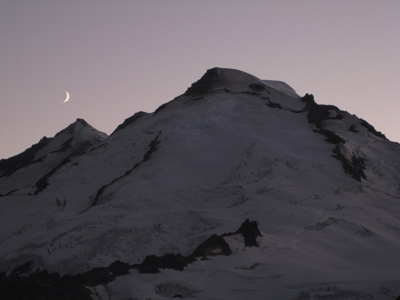 After breakfast the next morning, I set off on a long dayhike toward the Portals, a kind of rocky gateway that leads to the climbing routes up this side of Mt Baker. Along the way I encountered this strange volcanic boulder, which I immediately named "Darth Vader" (I looks like a lightsaber lopped off the top of his helmet).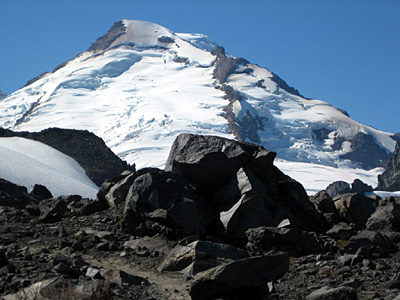 My final destination today was a rocky spine making up part of the Portals.
From here you can gaze down upon the glaciers that clothe the eastern slopes of Mt Baker.
Before packing out on my final day, I explored those icy lakes below my campsite.
The color of that water was simply amazing. Tropical turquoise. Brrrrr....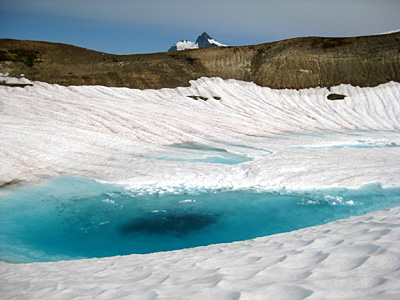 Back in civilization, I had to pay a visit to my favorite bar and eating establishment in Bellingham, La Chat Noir. Steamers and beer on a copper tabletop.
***
I remember that dude !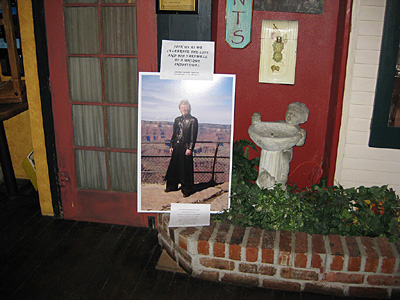 The first time I discovered La Chat Noir, sometime in the Nineties, he had been the bartender. A swashbuckling character wearing a ruffled shirt. A regular pirate. Chatting with a couple of locals, I got the story. His name was Random. That's right. His partner's name was Mirth. She was a witch. He was a warlock. And he had been a fixture here throughout the 80's and 90's. He liked to smoke.
R.I.P. Random.



"90% of life is just showing up."
Woody Allen



---
There are two ways to view the full set of slides:

Select a Thumbnail

Automatic Slideshow


(with 10 second delay)
---