The Pacific Northwest, September 2014





---
When I flew into Seattle on a Saturday in September this year, it had been sunny and warm for several weeks. Not exactly typical for the PNW, but not totally unexpected in these days of global weirding. Children and young girls in bikinis were frolicking in the animated fountain near the Space Needle...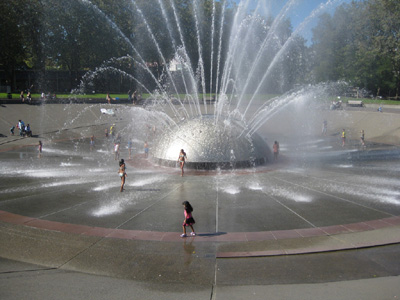 But the forecast predicted rain/snow at higher elevations starting Wednesday, so I knew I had to hustle to get up into the mountains in time to enjoy some good weather. Still, that left a full day to explore Seattle. I walked by the Space Needle, watched a short IMAX 3D documentary about the Lemurs of Madagascar (who has more fun than monkeys? lemurs, maybe!) and wandered along the waterfront toward the Pike Place Fish Market. Clam chowder and a beer at Pier 66 afforded a nice view of Mt Rainier in the distance, behind the marina and the King Dome (or whatever it's called now, after selling the naming rights).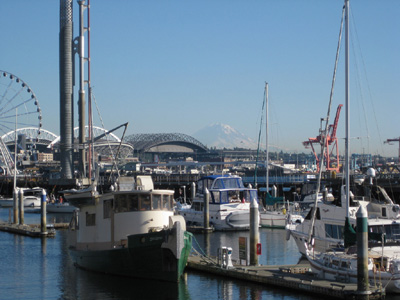 Monday, after a stop for mountaineering/camping supplies at REI, I drove up I-5 thru Bellingham and onward along the Mt Baker highway. Eventually, I reached the final parking lot above the Mt Baker ski area. Been here before. I finish packing, hoist my backpack, lock the car, then start hiking along Ptarmigan Ridge.
When I finally arrived at the base of the Coleman Pinnacle, I found two other camping parties in the vicinity (red tent below). But that's hardly a crowd up here. There is plenty of room to spread out. The trick is finding a water source nearby. A brook fed by a little snowfield that I have used for this purpose before had completely melted away this year. I had to walk about 10 minutes from my camp to reach a substitute. But at least I arrived in time to take a "bath" (with washcloth) and dry off in the setting sun.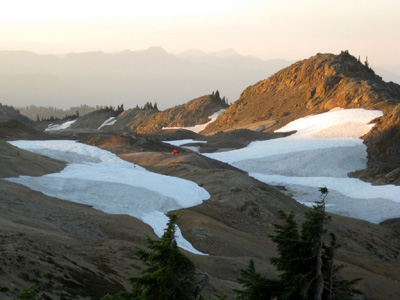 Ahhh...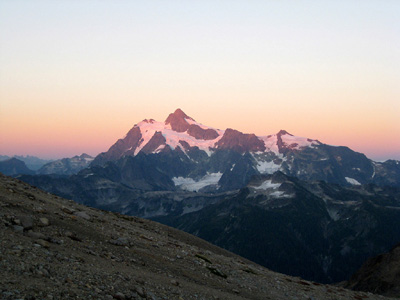 Good Morning !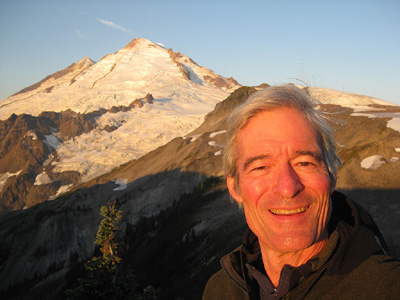 Something kept me awake until late last night. I heard some very loud voices. And voices carry in the mountains...
It turned out to be a group of mountain goat hunters who had gotten back to camp late after packing out a recently killed billy goat. They had finally won two permits in a lottery, after some 20 years of trying. 15 goat permits were issued in the whole state of Washington that year, but only 2 for this part of the Cascade Range.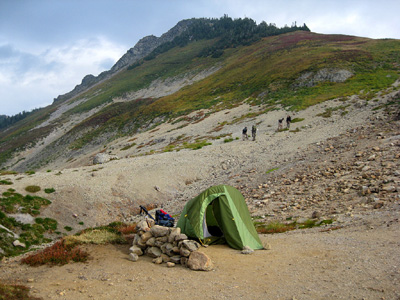 After some awkward introductions, we hit it off pretty good. Rich (who kinda looks like Teddy Roosevelt) said thay hadn't seen my tent in the dark after returning from their trek. He apologized for the commotion. I accepted his apology, and joined the four hunters at their camp the following evening. We traded stories as we passed a bottle of whiskey around an illegal campfire. They told me about their hunting experiences. I told them about climbing to the summits of Mt Baker and Mt Shuksan. Everybody had a good time.
But that was a flash forward. Today, I journeyed to the end of the trail along Ptarmigan Ridge. The trail ends above one of the Portals, a pair of rock formations that mark one of the less popular climbing routes to the summit of Mt Baker.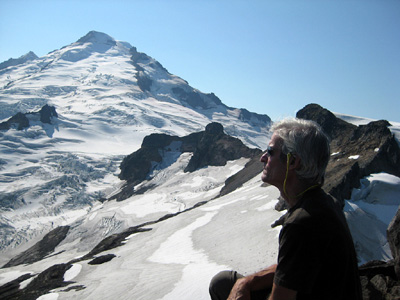 It's a good place to sit and meditate on the Meaning of Existence and Non-Existence. Which is not what I am really doing in this mini-tripod-assisted selfie, but appearances are everything, right? Ahhhh... let me meditate on that.


After returning to camp from my daytrip to the Portals of Mt Baker, I wandered down a spur of Ptarmigan Ridge toward Goat Lake. Amazing moss gardens thrive along several snowmelt creeks that flow into the icy lake below...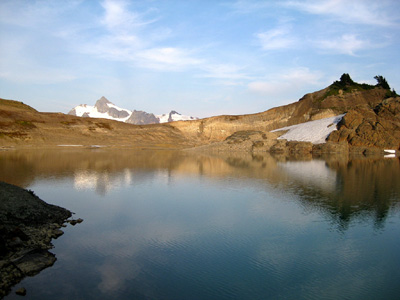 The next day, clouds were starting to roll in. The weather forecast had called for rain and possible snow today. Time to break camp and hike back to the parking lot. But the lenicular clouds sitting atop the summits of Mt Baker and Mt Shuksan provided some drama before my departure...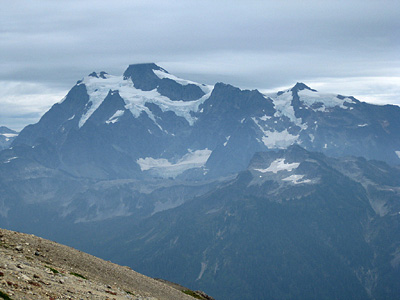 Back in civilization, I followed up on a tip the Goat Hunters had given me. "Be sure to check out the Boundary Bay Brewery in Bellingham !" I did, and it was a treat after eating freeze dried food for a few days. I let slip that my BD had just passed, and the very nice girl serving my table brought out a BD cake with a single candle. A slice of cheesecake, to be precise. What better desert after consuming a bowl of Pacific Steamers (i.e. clams) ?
For my last few days in the Pacific Northwest, I drove up through Vancouver and paid a visit to Whistler mountain resort, host of the 2010 Winter Olympics. A gondola runs up to the summit of Whistler Peak. Then the longest gondola span in the world connects the twin peaks of Mt Whistler and Mt Blackcomb.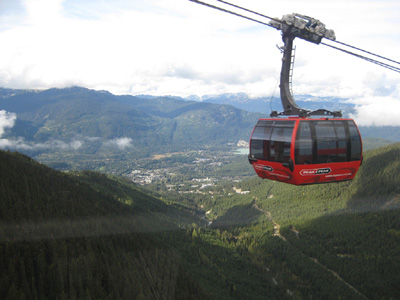 Bombs away !
"90% of life is just showing up."
Woody Allen



---
There are two ways to view the full set of slides:

Select a Thumbnail

Automatic Slideshow


(with 10 second delay)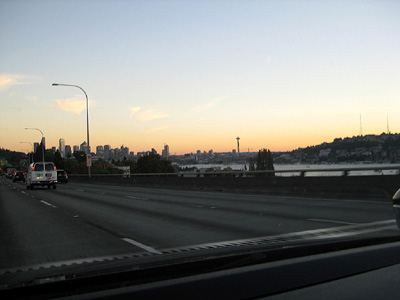 ---