Mt Rainier and the South Cascades
In the Pacific Northwest, September 2009
---
September 19, 2009. Once again, I am on a plane flying into SEA-TAC airport, just south of Seattle. And I have made a decision. I have decided that, come what may, this year I am NOT going to go back to visit Mt Baker and its evil twin, Mt Shuksan. It is certainly not because I have grown weary of that very special corner of the planet. Far from it. But as the neighboring web pages attest, I have been stalking those mountains for years.
Yes. I am obsessed. I need help.
(A mountain guide once introduced himself to me as follows: "Hi. My name is Dave. And I have a climbing problem !")
But what can to I do ? Where can I go to break the habit ? Then I hit upon the answer. Instead of driving north on the I-5 to Bellingham, doorway to the Mt Baker Wilderness Area, I will drive south to Mt Rainier and Mt St Helens and, who knows, maybe even visit some non-mountainous terrain ?
Well, at least Mt Hood (above) is not in Washington. So I am making some kind of progress. I may even be on the road to recovery. Not from my obsession with mountains, mind you, but from my fixation on those particular two.
So, this year, Mt Rainier will have to take care of my mountain fix...


And speaking of mountain obsessions, I am not alone. This year I ran into Harald from Heidelberg, Germany. He also loves the mountains, and he has a photography obsession even worse than mine ! I couldn't get him to stop taking sunset pictures and give me back the Marmot jacket I had loaned him to ward off the evening chill until it was completely dark ! Fortunately, I had brought a headlamp to light our way back down to the parking lot in Paradise (yes, in relation to how high we were, even Paradise is down below !)
But thanks to Harald's inspired procrastination, I was able to witness a spectacular mountain sunset and its afterglow.
And to cap it off, a beautiful crescent moonset ! Altogether, not a bad day.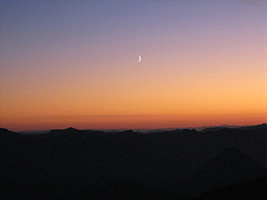 After parting ways with Harald and spending one night in the historic and rustic Paradise Inn, I backpacked up to a beautiful mountain lake on the western flank of Mt Rainier, Lake George. According to my guidebook, this is a popular place to camp in the peak season (wilderness reservations required).
But this late in the season nobody else was there. So, naturally, a skinny dip was mandatory.
And, yes, it was f**king cold !
From here, a winding trail (and about 90 minutes) takes you up to the top of Gobbler's Knob, where there is perched a firewatch station (no longer occupied).
Gobbler's Knob offers probably the best overall view of the western side of Mt Rainier.
And guess which side of Mt Rainier is the best place to watch the sun setting over the Pacific ?
(Fortunately, once again, I came prepared with my trusty headlamp to light the path home !)
"90% of life is just showing up."
Woody Allen



---
There are two ways to view the full set of slides:

Select a Thumbnail

Automatic Slideshow


(with 10 second delay)
---