Cascade Pass, Sahale Glacier, and Horseshoe Basin
The North Cascades, September 2005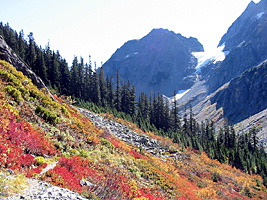 ---
On this trip to the North Cascades I headed up to Cascade Pass. Many people this time of year trudge up the series of switchbacks to the top of the pass proper, where there is a nice little viewing area on the saddle between two mountain ridges, with a couple of benches to lean your pack against. A few intrepid souls press on, climbing the arm leading up to the Sahale Glacier on Boston Peak.


But I already had enough climbing for one day. Instead, I made camp in Pelton Basin, just below the saddle. That night it got very cold in the basin, well below freezing. There was hoarfrost on the heather as I walked down to the creek to fetch water in the morning. But by the time I returned to camp, the sun had already melted it.
Hot. Cold. Hot. Cold. That's the mountains for you.
That day I climbed up to the glacier and made camp on top of a big cone-shaped mound of glacial debris, tucked inside a circle of stones that serves as a windbreak. I needed it. That night I thought my tent would be ripped to shreds by a wind that started up at midnight and didn't let up until 8am the next morning. But when it finally did calm down, it was a beautiful day to go for a glacierwalk.
I had my trusty ice axe. But I didn't have crampons. A returning group of French-speaking mountain climbers told me it would be difficult to get very far without them. They were right. But I managed to duckwalk ("pied en canard") for some distance in my hiking boots. When I finally turned around, it was just in time to see a bright yellow tent blow away, disappearing into the deep basin cradling Doubtful Lake.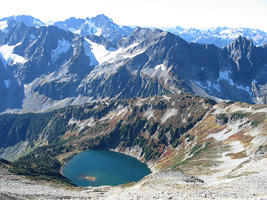 Fortunately, my tent is blue ! I had taken it down as soon as the wind made it possible.
( The "French" climbers were able recover theirs. Lucky for them, it didn't end up in the lake ! )
After a long, leisurely descent and another night in Pelton Basin, I hiked up the Stehekin valley and explored a place called Horseshoe Basin. My guidebook said there were lots of waterfalls there.
They were right ! The glaciers above provide plenty of meltwater, thanks to global warming. But you better get out and see them soon before they disappear ( the Sahale glacier has retreated noticeably since I first visited years ago ). There is an old copper mine here, right next to a spectacular waterfall. The entrance looks big enough to accommodate a couple of semis. But the miners are long gone, so I had the whole place to myself. Except for the bears. I didn't see them, but I'm sure they saw me ! ( mountain blackberries are plentiful this time of year.)
At the end of my trip I went back to visit Mt Baker and Mt Shuksan, two old friends. It was a cloudy day, but I was lucky enough to catch sight of a big avalanche on the flank of Mt Shuksan !
Can you spot the difference ? Try clicking.


---
There are two ways to view the full set of slides:

Select a Thumbnail

Automatic Slideshow


(with 10 second delay)



---