!BODY BACKGROUND="jpg/clouds.JPG" BGCOLOR=white TEXT=black>
The Mt Shuksan Worship Page
Mt Baker Wilderness Area, Washington, USA

Click on any thumbnail below to view a fullsize jpeg image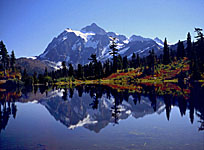 This is the classic view of Mt Shuksan... arguably America's most photogenic mountain.
How many 4x4 and SUV ads have used this as a backdrop ?
It boggles the mind !
---


Another Mt Shuksan reflection... and no damn truck in the way, either !
---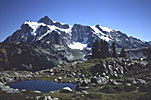 Mt Shuksan as seen from Heather Meadows.
---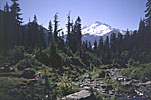 Taking a break on the way to Lake Ann... Mt Baker in the distance.
---

Lake Ann... perched up high on an arm of Mt Shuksan.
---


A mountain nymph catching a few rays.
---


Sunset at Lake Ann... prelude to the alpenglow.
---

Fire under water.
---


Clouds rolling in around Mt Baker.
---
more Cascades !