Climbing Mt Shuksan
Mt Shuksan, Washington, August 1999

Click on any thumbnail below to view a fullsize jpeg image
Note: Five images were scanned from APS prints. The rest are scanned from slides.


---


Majestic Mt Shuksan behind a still-frozen Mirror Lake. The foreground trees were bent by the previous winter's snowfall.
Nearby Mt Baker Ski Area set a world record that year for the deepest snowfall ever recorded on planet Earth: 93+ feet !

---


Table Mountain, on the saddle between Mt Shuksan and Mt Baker.
An excellent place to view both mountains. But this summer the trail is still hidden under deep snow !
---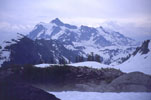 Mt Shuksan on the day before we set out to climb it.
We will be following the skyline from right to left.
---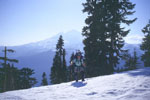 Finally out of the deep woods on Shuksan's southern flank.
Cousin John poses before Mt Baker.

---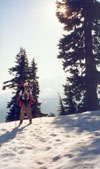 It's hot out here in the sun !

---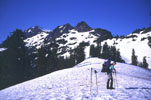 We're headed for that notch on the ridge above. Onward and upward !

---

Home sweet home, on top of the ridge at the edge of the glacier.

---
---

Sunset on the ridge ... looking south over Baker Lake.
Those gathering thunderheads on the horizon would have us plenty worried that night.
---
---

Fire on the mountain. Let's get trucking !
---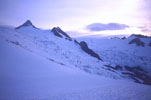 The Sulphide and Crystal glaciers. Lots of crevasses in the distance.
Fortunately, we don't have to pick our way through them.

---

Mt Baker from the roof of Shuksan.
Sure hope the weather holds !

---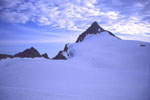 The Summit Pyramid beckons !
That tiny speck lower center is John.
---
---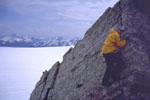 Belay ? Who needs a belay?
Let's just scramble to the summit before the rain gets any worse !

---
---

Are you sure this is the summit, John ?
How can you tell ?

---
---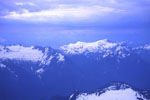 Could it be ? Yes, it has to be Rainier...
Only 150 miles away !

---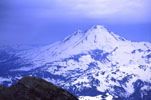 A Mt Baker closeup.
From here, we're less than 1000 feet below the Baker summit.

---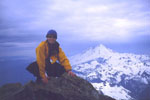 How's this for a summit pose ?

---

It's a long, hard scramble back down.

---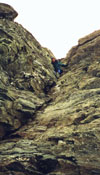 If I can upclimb it, I can downclimb it ! Right ?
Right ???
---


A side-trip takes us to the edge of the glacier.
Looking over the precipace...

---

Lake Ann far below, seen from above the Upper Curtis Glacier.
It's still frozen over in August !

---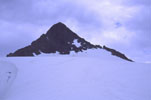 Who are those guys ? They sure took their time getting to this point...
but we don't think they ventured much further. It's getting late.

---


Taking the easy way down... a long glissade.

---
---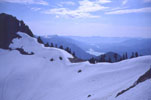 Back at the Notch.
God, I'm beat ! And we still have hours left to go...
But we have to push on. There's a couple of cold beers waiting below !


more Cascades adventures !