Seattle, Mt Baker and Mt Shuksan
The North Cascades, September 2006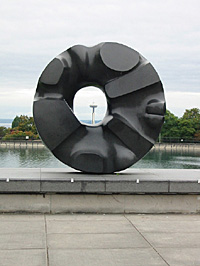 ---
In the fall of 2006 I returned to the Pacific Northwest. I arrived in Seattle on a beautiful day. However, the weathercasters warned of a series of storm fronts over the Pacific that had been waiting patiently for my arrival.
So I spent an extra day in Seattle and made the best of it, hoping to wait out the bad weather. I ate fresh mussels and downed a few pints of microbrew at the Athenian in the famous Pike Street Market. I saw my first IMAX movie: a 3D undersea adventure featuring in-your-face jellyfish. I visited the Asian Art Museum and admired the work of a local Korean-American photographer who takes images of the same subjects I do, except his are really good. I wandered a Japanese Garden and watched brightly colored carp swim past giant stone lanterns.


And, of course, I made my pilgrimage to the flagship store of REI, the holy temple of outsidegearheads who are more obsessed with titanium ice tools and ultralight tents than guns.
I had been thinking of returning to Mt Rainier that year, but I discovered that the venerable old Paradise Inn is closed until 2008 for roof repairs (think SNOW) and I had been hoping to use that as my "base camp". So I decided to head north again, to Bellingham and the Mt Baker/Mt Shuksan wilderness area near the Canadian border. Maybe if I timed it right I could sneak in one nice day between incoming storm fronts ?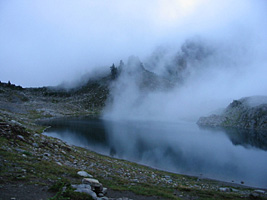 'Fraid not. But I did backpack up to Lake Ann on an arm of Mt Shuksan and spent a night in the clouds. It was quite dramatic when they parted enough to let me see the lake. But the incredible mountain that normally fills half your field of view was completely obscured. The next morning, in the fog, it took me 3 hours just to find the trail back down.


But what a difference a day makes ! The Friday before my flight home I was granted the gift of a partly cloudy day, and was reminded why I take the calculated risk of returning to this place year after year where it rains enough to feed the Olympic rainforest and snows enough to keep setting world records.
---
There are two ways to view the full set of slides:

Select a Thumbnail

Automatic Slideshow


(with 10 second delay)




---