The Pacific Northwest, September 2010





---
Last year I managed to stay away from Mt Baker and its evil twin, Mt Shuksan. I had decided that enough is enough. There are, after all, other mountains in the Pacific Northwest, aren't there ? Not to mention other things to do, other places to see. So, from Seattle, I had driven south to rediscover Mt Rainier and the Columbia River Gorge with its spectacular waterfalls.
Lovely places, both.
But when this year rolled around, I felt like I needed another fix. Weather had something to do with it, too. This September was unusually rainy for Seattle, which is really saying something ! But the forecast showed a small window of opportunity midweek. Enough to catch maybe one good day of weather in the mountains and a couple of tolerable nights if I timed it just right.
I know how to make that work around the Evil Twins, since I have experienced all kinds of weather there before...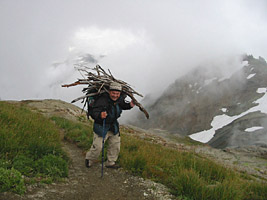 But first I spent a nice weekend in Seattle, wandering along the waterfront, visiting the Pike Place Market on "Busker Day", catching an IMAX 3D documentary about the Hubble Space telescope, and so on...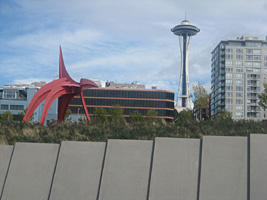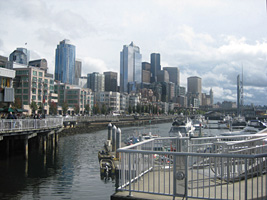 Then, come Monday morning, after a mandatory stop at REI to pick up supplies, I headed north on I-5 again, bound for Bellingham. After getting settled and stopping in at La Chat Noir for dinner and a couple of brews, I followed the Mt Baker Highway to its end.
Naturally, I had to stop at the justly famous Mirror Lake to take a few pictures of Mt Shuksan, the most photographed mountain in the world ! Just as in Seattle, it was readily apparent that I was now standing on the Far Right Coast of Asia.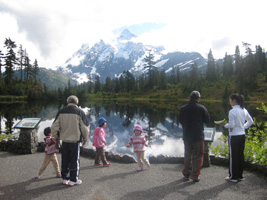 My first idea was to hike along Ptarmigan Ridge and camp somewhere near Mt Baker. But after talking to a ranger in Glacier, I decided against this plan. There was still plenty of snow left over from last year, and the trail was treacherous in spots. Also, I knew there would be a good chance of whiteout conditions on the day I planned to hike out...
So I decided on Plan B instead. I hiked to Lake Ann, near one of the lower glaciers of Mt Shuksan.
This is a wonderful place to be at sunset, if you are ever lucky enough to be there on an evening when clouds don't block the sun.
And this time, I was !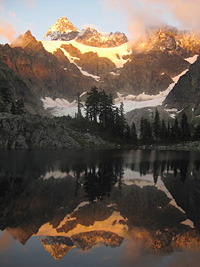 The next day, I hiked to the Lower Curtis Glacier. That is the glacier closest to my camp, more or less at eye level in the picture above. There is also an Upper Curtis Glacier, which is located... I'll let you guess. After wandering around on the ice for a while, I sat down in a rocky area to eat lunch. Then I noticed what at first looked to me like a hyena, prowling around below. I was glad I had my ice axe handy !
It turned out to be a dog (above, lower right). Finally, the owner showed up. A man of few words, wearing bermuda shorts, and not carrying an ice axe or ski poles or any of the usual glacier travel implements. But obviously, completely at home. So was the dog. They wandered out over the glacier, lightly stepping around the many crevasses. I could tell that this guy, and his dog, were both seasoned mountaineers ! And they helpfully provided a sense of scale to a series of photos I took as they explored the glacier (look close, they're in there). Thanks, dudes, whoever you are !
After returning to civilization, I paid a visit to a few favorite spots in Seattle. One is the Asian Art Museum in Volunteer Park. They were displaying a number of famous Japanese Ukiyo-e woodblock prints, several by Hiroshige. This bridge scene so impressed Vincent Van Gogh that he copied it in several oil paintings !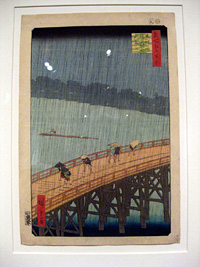 The photo below is the head of a "Lohan". The caption is worth reading and can be found in the slideshow.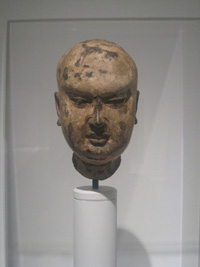 The other favorite spot is a Japanese Garden given many years ago as a gift to the City of Seattle from the government of Japan. Also part of the photo series.
Those big, colorful fish are carp ! These fish are sacred in East Asia. Really !
"90% of life is just showing up."
Woody Allen



---
There are two ways to view the full set of slides:

Select a Thumbnail

Automatic Slideshow


(with 10 second delay)
---