Waterfalls and Mountains
Columbia River Gorge, Oregon, June 1998

Click on any thumbnail below to view a fullsize jpeg image


---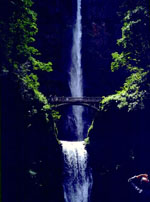 Multnomah Falls, not far from Portland.
---



Mt Adams isn't even in Oregon, but it's on the way if you're headed south from Mt Rainier.
This was an extremely windy day, as this weird lenticular cloud indicates.
( so much for our plan to hike to the summit and ski/snowboard down ... )
---



Cousin John & his lovely wife Susan... on the Washington side of the Columbia River Gorge.
This is where we said goodbye and went our separate ways. Hey Cuz, one lil' nip for the road ?
---
---



Oneonta Gorge, near Multnomah Falls.
---



A cave near the entrance to Oneonta Gorge.
---



Another view of Oneonta Gorge.
---
---
---


Ponytail Falls, from the other side...
---
---
---
---



Mt Hood, seen from the lobby of historic Timberline Lodge.
If you want to escape the summer heat, try snowboarding in June !


---
back to my homepage