PNW videos
click here



---
Last year I drove south from Seattle to revisit Mt Rainier, and then journeyed up the Columbia River Gorge. So this year I was ready to return to one of my favorite spots in the universe, weather permitting.
I had been expecting rain on my arrival in Seattle, but instead I found huge, dramatic cumulus clouds everywhere, with just an occasional sprinkle. Fortunately, this pattern held for most of my stay.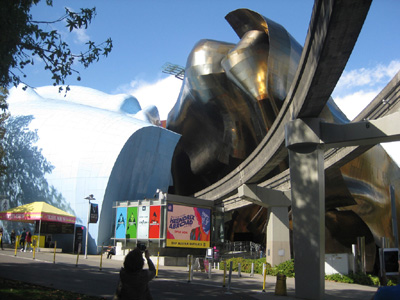 I had one full day to wander around downtown Seattle. The rate at my usual hotel near the Space Needle keeps going up and up every year, but you still can't beat the location. I can walk thru Seattle Center and down along the waterfront to the Pike Place Market.
YOU DO NOT WANT TO DRIVE IN SEATTLE! (if you can help it) Along the way is Paul Allen's EMP museum dedicated to Rock Music and SciFi (in a fitting building designed by Frank Gehry). Right across the street is the Bill and Melinda Gates Foundation.
God only knows what Bezos is planning to show those guys who's the REAL visionary around here...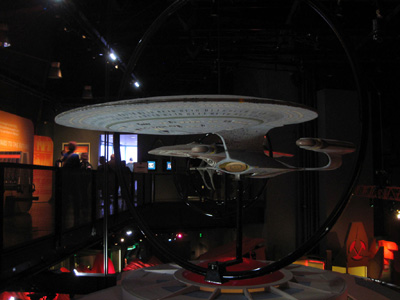 Speaking of visionaries... Remember Gene Roddenberry ? I do. This year marked the 50th Anniversery of Star Trek. THE Star Trek. The one that started it all.
Naturally, a SciFi museum had to mark the occasion with a special exhibit, and I had to pop in and watch some of the taped tributes by visionary Silicon Valley enterpreneurs. "The iPhone ? It all began with the Star Trek tricorder..."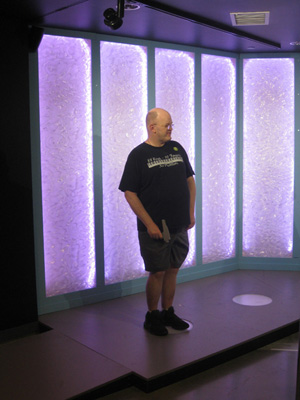 There were also some cool displays, original props, and interactive sets so you could watch yourself get beamed down to an alien planet only to be immediately vaporized by an evil energy creature with little or no regard for the Prime Directive.
Watch out ! They seem to be everywhere, these days.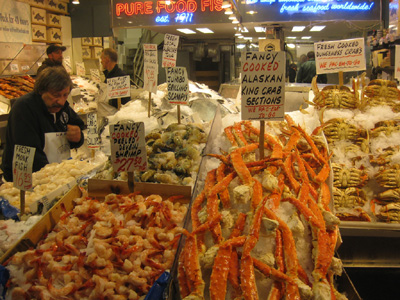 No trip to Seattle would be complete without a visit to the fish market. Just ask any Chinese tourist! I had my fill of steamed Penn Cove clams and mussels at the Athenian.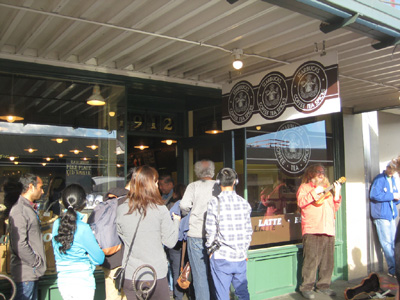 And a few pints, of course.
Then I started back home, passing by the ORIGINAL Starbucks where a long line of customers were rehearsing their speeches:
"A super-tall extra-skinny double pan-galactic gargle blaster latte espresso with a slice of lemon and a pinch of Vulcan Mindmeld gangia, please."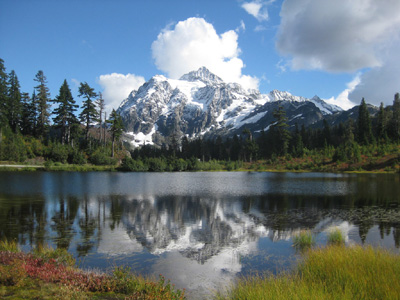 The next day I skipped my usual REI stop and headed straight to Bellingham and then up the Mt Baker Highway.
After checking in at the ranger station in Glacier ("No, you can't get stove fuel here, but yes, you can get a bear cannister") I drove up to the Mt Baker ski area with the obligatory photo stop at Mirror Lake.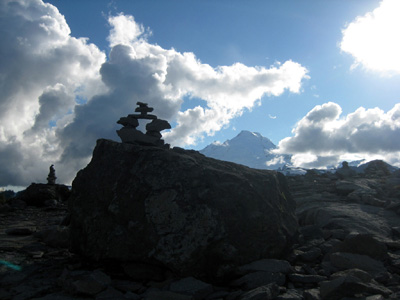 At the top of Table Mountain, above the final Heather Meadows parking lot, I encountered a few creative rock cairns. These usually make for good photo ops, but there was one stone arch that just didn't cut it...
So I built a new one. Thank you.


The hike along Ptarmigan Ridge the next day was pleasant and mostly uneventful. I found the ideal place to pitch my tent beneath the Coleman Pinnacle. I had clear views of both Mt Baker and Mt Shuksan, and water was not too far away.
I was preparing to make dinner, when I got somewhat distracted...
OMG! I thought I saw a robed and bearded Charlton Heston standing on that ridge, shaking his staff in righteous fury!


But my eyes were just playing tricks on me. Anyway, I'll be skipping dinner. I can make up for it tomorrow. It's already getting dark... and windy and cold.
Tonight, I'll have the stars to feed my soul (and a flask o' whi'key to warm me belly).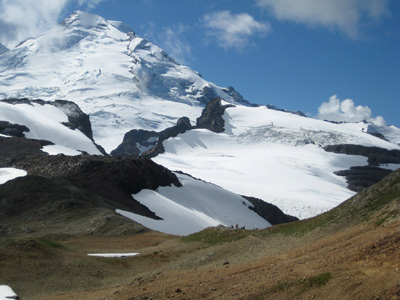 In the morning, after a delicious breakfast of coffee and oatmeal, I was all revved up for a long day hike. A group of dayhikers had already passed high above my camp, headed along the Ptarmigan trail.
I caught up with them at the top of a ridge (see above): a good place to stop for lunch. One was a dude doing some research on the glaciers (he shows up in a lower photo as a tiny speck).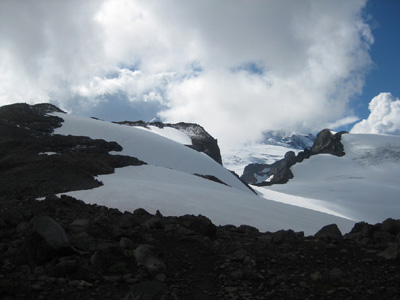 The Portals are a pair of rock outcroppings that provide a gateway onto a lower glacier of Mt Baker.
It's one climbing route to the summit, but not a commonly used one because it's a much longer approach than the more popular Coleman Glacier route (the one I have followed).
The researcher "dude" I mentioned above is in this picture. Can you spot him ? (He's close to the center)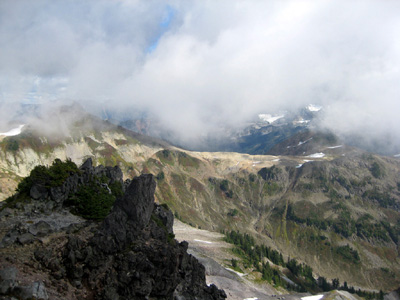 Looking back at Ptarmigan Ridge. My camp is just behind the small clump of trees to the left of a V-shaped gully, just left of center.
A couple of dayhikers taking a break on the ridge, near the end of the trail. We exchanged picture taking duties.
Sure beats taking selfies. Especially when you're standing on the edge of a precipice and you just can't get the angle quite right and... oops!
To boldly go!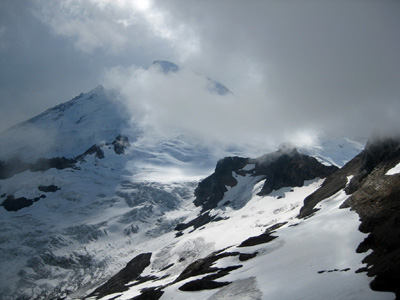 A parting shot before turning back.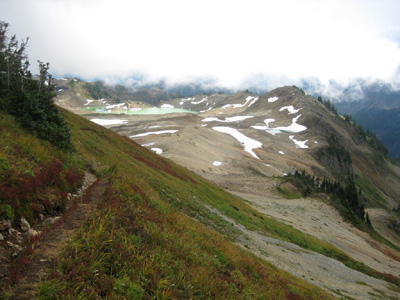 Home sweet home... my pale green tent is a tiny speck just left of those trees below.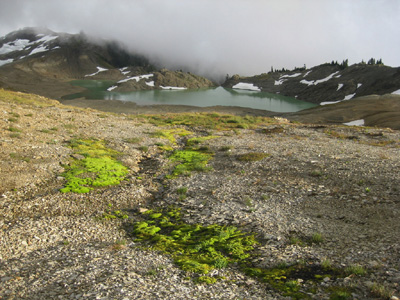 Goat Lake is all open water this year. Usually it is mostly ice covered and meltwater is flowing down from the snowfields near where I'm standing. But the moss gardens are still there.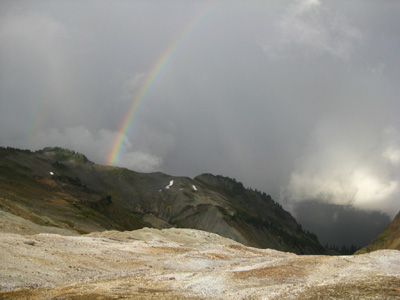 A rainbow appears just before the sun disappears.


The next morning, I peer out of my tent and see...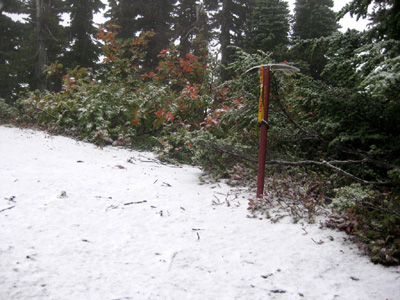 About an inch of snow has already fallen. And it's accumulating. Should I stay or should I go ?
I am warm and dry right now. But if I break camp and start back down, will I be able to stick to the right trail when snow-covered, and with such limited visibility ? I decided to go for it.
After being forced to back-track a few times (no, this just doesn't look right...) I was glad to make it back to the parking lot.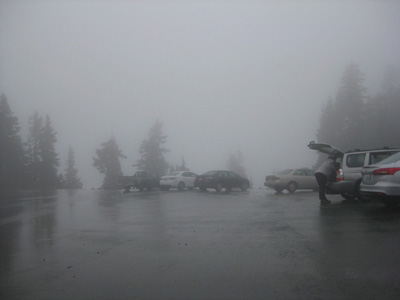 Civilization! Lovely day, isn't it?
Back in Bellingham, I get to shower and shave and just hang out for a day. I spotted this interesting looking character outside of Tony's Cafe.
Note his fashionable goggles. Too bad you can't see his giant clown shoes, too.
(What is he smoking ? Who is he texting ? Find out after this important message...)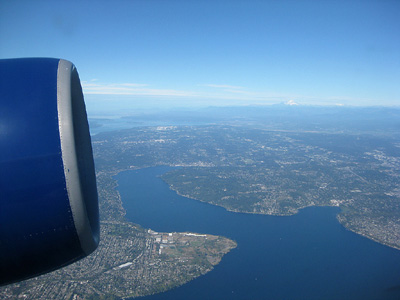 On the flight home, I actually got a window seat! Mt Baker and Mt Shuksan can be seen on the horizon to the right. You could see well into Canada that day. More than 200 miles, by my estimation.


"90% of life is just showing up."
Woody Allen



---
There are two ways to view the full set of slides:

Select a Thumbnail

Automatic Slideshow


(with 10 second delay)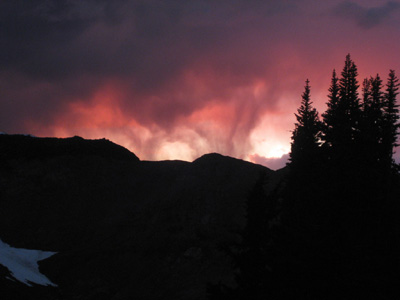 ---