PNW videos
click here



---
This year on my annual mountain pilgrimage to the great Pacific Northwest, I decided to head south from Seattle and make an offering to the gods on Mt Rainier. My last visit had been in 2009 and I didn't want them to become angry or jealous of the gods on Mt Baker and Mt Shuksan who get most of my attention. Especially since last year I sacrificed a mountain goat to those gods... or, well, actually, I got drunk with some hunters who had just shot one. Close enough!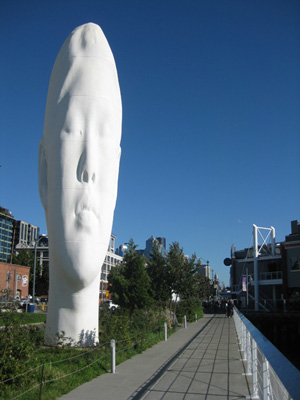 But first I enjoyed a couple of glorious days in Seattle. If I needed reminding that this is the Asian Century, I certainly got it here. Most of the faces you see along the waterfront look rather like this, only somewhat less pale and long in the face.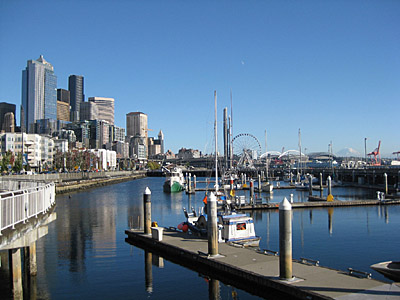 A beer on a pier with a view of the city, a half moon, and Mt Rainier in the background. Like a woodblock print by Hokusai, but without the funny hats. I was done shopping at REI and prepared to make the drive to Mt Rainier the next day with enough freeze-dried food and stove fuel to last a few days, at least.
Once I had found a room for the night at the historic Paradise Inn, in Paradise, WA, I started hiking up toward Camp Muir, which is at 10,000 feet on the flank of Mt Rainier. This is the usual base camp for climbs to the summit. I knew I wouldn't have time to make it that far, but it felt good to be back on snow again. On the horizon you can see Mt Adams (left) and Mt St Helens (right), with Mt Hood between them in the far distance.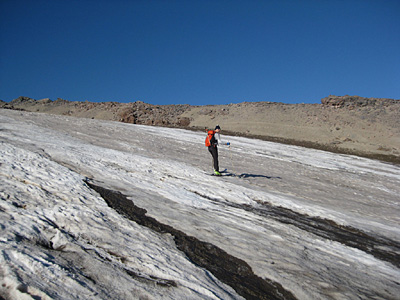 The Muir snowfield looked a bit worse for wear after a long and (relatively) hot summer and fall. But that didn't discourage a few diehard skiers who had carried their gear up to get in one last (or first?) run. If I had had skis with me I might have joined in the "fun". It couldn't be much worse than Granite Peak in May!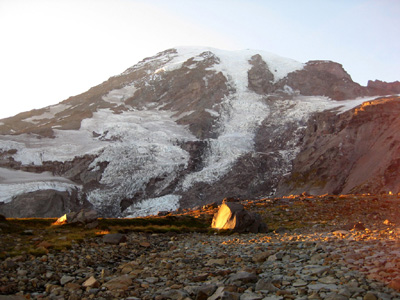 The setting sun catches a few boulders and lights up the ridge where Camp Muir is located. Good luck climbers! I'll be sleeping soundly below when you get up at 4am to start cramponing up the last 4000' to the summit. May the wind be at your back and may the clouds part as you reach the midpoint of your mountain journey.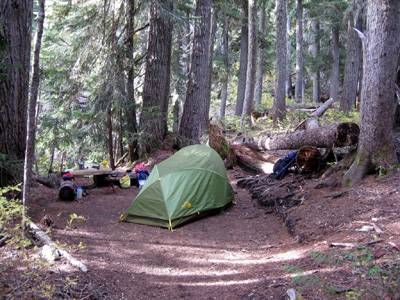 The next day I set off on the backpacking portion of my trip, permit in hand. I am supposed to camp somewhere near Indian Henry's Hunting Ground, but gaining 2500' of vertical with a full pack is something I haven't done in a while! Everything went fine, though, and I really enjoyed the trek through primeval forest and across a glacial creek. The campsites at "Devil's Dream" are in deep woods and there was no water there. But I found water up the trail about a 1/4 mile, so no worries. The only other person around was Steve from Bellevue, who introduced himself that evening while I was fixing dinner. He was on his way back down the mountain, hiking by the light of his headlamp. We had a pleasant conversation while enjoying a few lil' nips o' whi'key. Steve knows his way around Rainier like I know my way around Rib Mtn. And he had some advice for me: "If I were you, I'd climb Pyramid Peak tomorrow, weather permitting."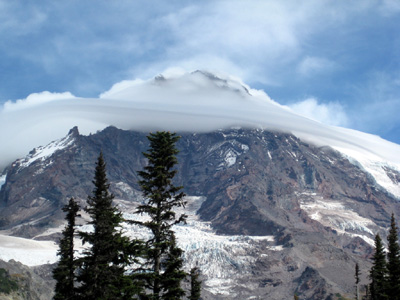 So after breakfast the next morning, I followed the trail through Indian Henry's Hunting Ground and past Mirror Lakes toward Pyramid Peak. I stopped at the Lakes for some photos and lunch. The lenticular clouds that kept forming and dissolving on Mt Rainier that day were really amazing to watch! I wondered how it would all look from a climber's perspective. When I climbed to the summit of Rainier, years ago, I found myself in a similar situation. It was like being in a plane in a cloud, but where you could still see the ground far below. Just not anything on the horizon.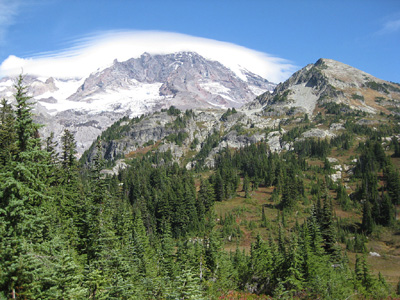 Pyramid Peak is perched on the side of Mt Rainier (on the right, sans cloud). It offers splendid views in all directions. Although it looks like it comes to a peak from below, the summit is actually a wide flat area of tundra. A great place to hang out on a sunny day! And this sacred place has been consecrated by a number of highly creative rock cairn/sculptures that must have been left by the same aliens who gave us Stonehenge, the Face on Mars, and Donald Trump's Hairpiece.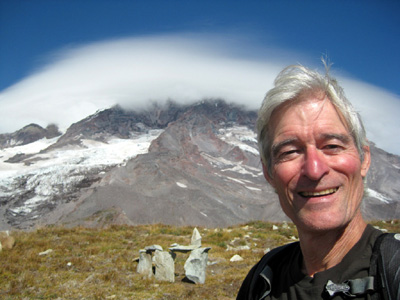 On my way back down to camp, I stopped at the Mirror Lakes again to take in the view...
The aliens were apparently at work here, too! I couldn't help but notice a few stray boulders floating above the lake (upper right quadrant). Fortunately, I fell out of my headstand and realized that the photo I had just taken was upside down. Gratefully, I returned to camp with my tentative grip on reality partly restored.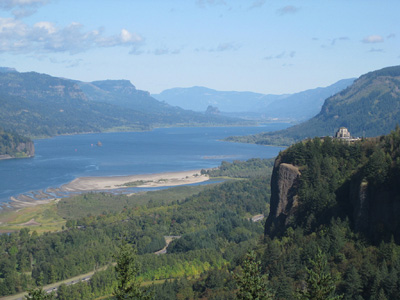 After my return to civilization, I concluded this trip with a visit to the Columbia River Gorge that divides the states of Washington and Oregon.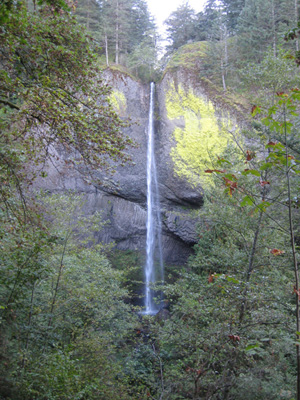 Waterfalls and vistas galore!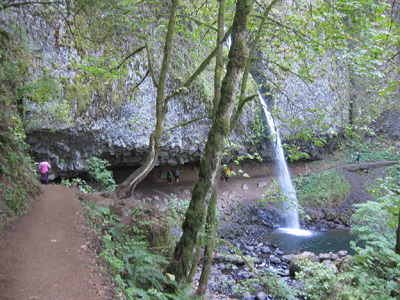 Of which, Multnomah Falls is the most popular and famous (being on historic Oregon Highway 30 helps)...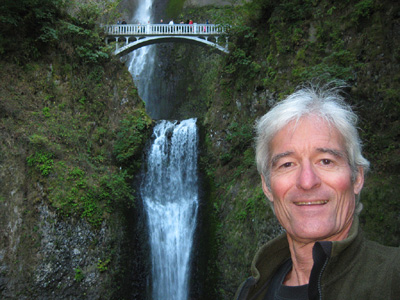 But I think the best experiences here are to be found on the trails that follow the gorges above the more famous falls. There are so many other waterfalls to see! These are mostly enjoyed by locals (and, of course, a few Germans... they get around!).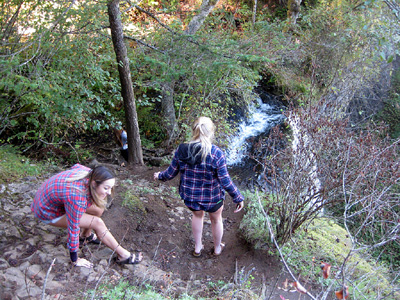 Ya, German girls travel gute. Auf wiedersehen!

***
Coda. Crossing the bridge across the Columbia River that evening, I noticed many cars pulled over into the emergency lane. What gives?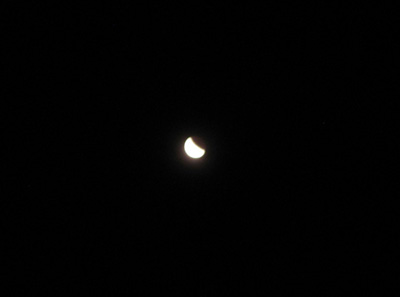 But of course! The lunar eclipse! I eventually found a gas station on I-5 with a decent view to watch the rest of the show.


"90% of life is just showing up."
Woody Allen



---
There are two ways to view the full set of slides:

Select a Thumbnail

Automatic Slideshow


(with 10 second delay)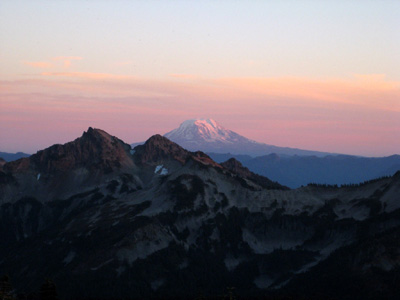 ---